In a year marked by its share of highs and lows, 2023 has emerged as a historic year for women's sports viewership in the United Kingdom.
According to new research from the Women's Sport Trust, people in the UK spent more time watching women's sports than ever before, solidifying the growing prominence of female athletes on the big screen.
However, as viewing figures reveal, there's more to the story than just breaking records.
Record-Breaking Viewership and Declining Numbers in 2023
In a heartening development, viewers in the UK tuned in to women's sports for an average of nine hours and 58 minutes in 2023. This remarkable figure marks a substantial increase from the eight hours and 15 minutes in 2022 and the modest three hours and 20 minutes in 2021.
This surge in interest is undoubtedly a testament to the growing appeal of women's sports on the global stage. However, while 2023 has seen record-breaking viewing hours, the overall number of viewers has seen a decline.
36.2 million people watched at least three minutes of women's sports programming between January and October 22, 2023, compared to the 38.9 million viewers in 2022, falling below the peak of 2019 with 39.8 million viewers.
A trustee of the Women's Sport Trust emphasised the significance of these figures, underlining the importance of monitoring the evolving landscape of women's sports. Progress, they noted, isn't always a linear path.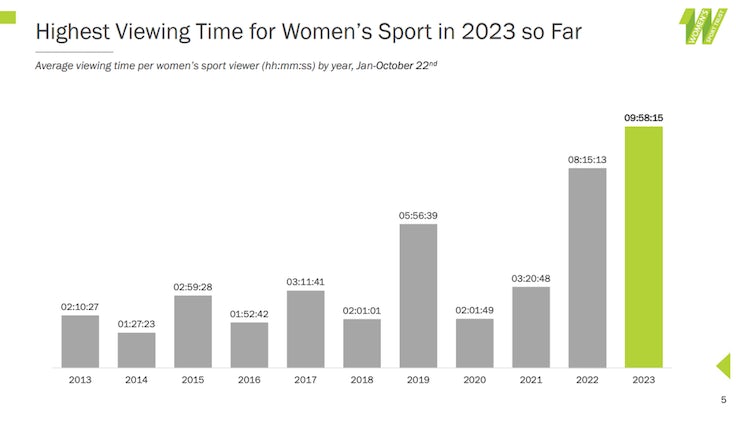 Challenges in Domestic Sports and Broadcasting Strategies
The data reveals a drop in domestic women's sport audiences for football and cricket in 2023. The Women's Hundred cricket tournament saw a 15.5% decline compared to 2021, while football also experienced a drop.
Interestingly, cricket matches during The Hundred were more likely to air on Sky Sports earlier in the week, indicating viewership patterns.
Furthermore, broadcasters are currently navigating a test and learn phase for women's sports, striving to create consistent "appointment to view" slots to cultivate viewer habits.
Football, traditionally seen as the driver of women's sports figures, is not the sole contributor. Golf and cricket have also made significant strides, translating their momentum into record-breaking figures.
Growth Across Various Sports and New Audience Dynamics
The Solheim Cup, England women's cricketers, the Netball World Cup, and the Women's Six Nations have all experienced substantial growth in viewership. The diversity of sports and increased screen time for female athletes is promising and has the potential to benefit brands and sponsors targeting a younger, more diverse audience.
Fans of women's sports often have different dynamics compared to traditional sports fans. They may approach women's sports as more inclusive and less tribal, involving their families more in the experience.
Additionally, women's sports are attracting viewers who may not have been interested in men's sports, indicating its unique appeal.
Global Sporting Events
While football has historically played a crucial role in women's sports viewership, other sports are making significant strides. The 2023 FIFA World Cup did contribute to increased viewership, but it's not the only factor. Golf and cricket have also seen their numbers rise.
The Solheim Cup, the biennial golf tournament for professional women golfers in Europe and the US, recorded a staggering 95 million viewing hours in 2023, compared to its previous best of 6.3 million in 2021.
England women's cricketers witnessed their highest audiences on record, with 7.4 million viewers watching for three minutes or more, compared to a previous record of 6.2 million.
Additionally, The Netball World Cup was watched by 5.6 million in 2023, up from 4.5 million in 2019. Meanwhile, viewing hours on UK television for the Women's Six Nations reached 10.4 million, compared to 7.7 million in 2022.
Commercial Opportunities and Broadening the Fan Base
The increasing popularity of women's sports presents a unique commercial opportunity. Women's sports fans, often in control of their household budgets, have a strong affinity for brands supporting women's sports.
This demographic offers potential for FMCG and female lifestyle brands to tap into a previously untapped market. Fashion, music, and beauty industries can also play a significant role in shaping the future of women's sports.
Conclusion
In 2023, the UK witnessed both the soaring heights and the challenging realities of women's sports viewership. While record-breaking viewing hours marked a significant triumph, declining numbers and shifts in domestic sports dynamics posed their own set of challenges.
Even so, the future of women's sports in the UK holds promise, not just as a sporting spectacle but as a platform for diverse brands and sponsors; and as the landscape continues to evolve, the importance of continued support and investment in women's sports cannot be overstated.
Although the journey may not always be a straight line, it is undoubtedly one worth pursuing, both for the athletes who inspire us and for the fans who passionately support them. With each record broken and each challenge faced, women's sports in the UK are on a path toward a bright and inclusive future.