With coffee drinkers continuously exploring unique flavour options, Starbucks is stepping up their game by introducing the newest trend: olive oil-infused coffee! As Howard Schultz prepares to bid farewell from his third run as Chief Executive, he has dubbed the new olive oil coffee drinks "transformational".
Beginning its debut within Starbucks locations in Italy, it will then be expanding out to select U.S. stores. Let's explore the advantages of this new line of coffee and why it is believed that it will be a game changer for the industry!
Starbucks launches extra virgin olive oil-infused coffee https://t.co/YLOC7peRm7

— The Guardian (@guardian) February 22, 2023
What is Starbucks and Their Brand?
Starbucks Corporation is a renowned American chain of coffeehouses and roasteries that call the beautiful city of Seattle, Washington their home. As of November 2021, Starbucks has taken over the world as the globe's biggest coffeehouse chain with 33,833 stores in 80 countries. An incredible 15,444 of those are located solely within America. Of all Starbucks' coffee shops located in the United States, 8,900 are managed directly by the company while the rest are simply licensed.
Starbucks is credited with launching the resurgence of coffee culture and widening the scope for drinkers by offering an expansive selection of beverages. With coffee as their specialty, they do also offer different hot and cold drinks; to name a few, they serve: whole-bean coffee, microground instant coffee, espresso, caffe latte, full and loose leaf teas.
For those looking for something refreshing or fruity – they also have juices and Frappuccino beverages to choose from! Additionally they provide a variety of pastries and snacks that are sure to please any palette.
Introducing The 'Oleato' Coffee To The World
Introducing Oleato, the newest line of coffee infused with olive oil! 'Oleato' was given its name due to being derived from the Italian word for "with oil", and it embodies the commitment to keep bringing customers new and high-quality refreshments.
These drinks are being trialled at this present time, starting within the 25 Italian locations, before they make their way across the water to the United States this spring. California will be leading the charge, seeing the new beverage first before it expands to other areas.
The Oleato is a unique blend of Starbucks espresso and extra-virgin olive oil, mixed together perfectly to provide the drinker with an invigorating mix of creamy texture and gentle flavour. Following this and branching out the trend further, Starbucks is also introducing their Oleato espresso martini range to select locations across Italy, Seattle and New York.
Why Decide on Using Olive Oil in Their Coffee?
As customers become increasingly health-conscious and seek out eco-friendly products, Starbucks is rapidly adapting by introducing more nutritious offerings – like organic extra virgin olive oil. It's a smart move that meets the growing demand for sustainable, healthy options – one that makes perfect sense in today's market!
With the addition of olive oil to their coffees, Starbucks founder Howard Schultz conveys his dedication to providing remarkable drinks that are both sustainable and nutritious – all while keeping the same, well-known exquisite taste!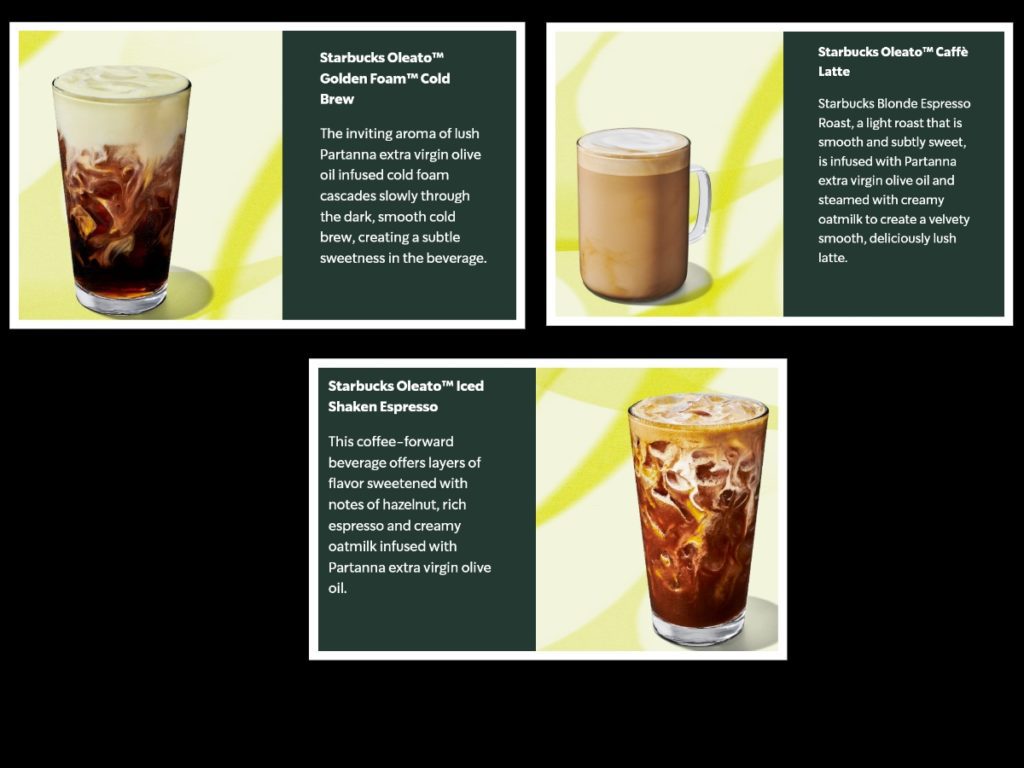 What Does It Mean For The Coffee Industry?
As Schultz's departure from the Starbucks CEO position is fast approaching, they have launched this newly crafted coffee line early; hoping that it will revolutionise an industry which recently experienced a decrease in consumer demand. He believes wholeheartedly that this new product will be a "market-maker", completely transforming the current situation.
The CEO understands that people today aren't just searching for coffee convenience, but are seeking unique flavours and experiences too. This new line of coffee offers customers precisely what they need! With the perfect marriage of great taste and science (olive oil for its anti-inflammatory properties), customers can now indulge in their favourite cup with added health benefits!
In conclusion
With consumer demand tightening up recently in the coffee industry, Howard Schultz believes that his new line of "Oleato" coffees will see Starbucks hopefully once again succeeding in revolutionising the coffee industry with this new range. By incorporating extra-virgin olive oil into their drinks, they have crafted a unique and nutritious refreshment that appeals to health-conscious customers while providing them with a new exquisite taste.
Thanks to Starbucks' innovation, customers can now enjoy their favourite brand of coffee knowing that it is not only delicious but also beneficial for our bodies! It will create a new and exciting era for coffee lovers, bringing something exciting to look forward to in the coming months.