Are you satisfied with the current number of ads you see on Instagram? If so, be prepared for an increase in the future. Instagram has recently announced on their platform that in the coming months, they will globally implement a new ad placement test in its search results.
Ads will begin to appear when a post is opened, that's shown in Instagram's search results. The question is though, what impact will this have on regular users now that businesses have a new way to connect with people in an engaged community?
What has Instagram said about this new development?
Instagram has confirmed that they will now display ads for search terms that comply with their community guidelines. Therefore, users may come across ads for all applicable searches, with the company further stating that the new ad format will target individuals who are actively looking for businesses, products, and content.
Businesses can now advertise in search results as well, allowing them to reach potential customers who are actively searching for their products/services. This move will also improve the user experience, by essentially making it easier for them to find what they are looking for.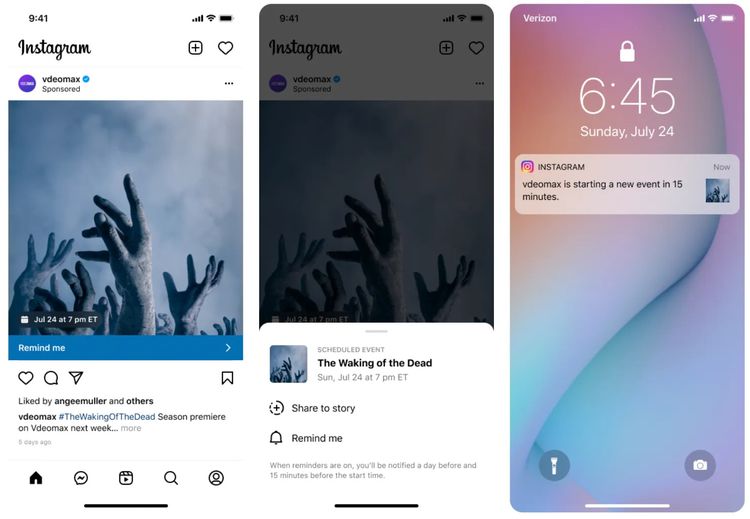 What other features are Instagram offering?
Another new ad format called "reminder ads" is also being introduced by Instagram. It will send notifications to remind people of an upcoming important date or event that they have shown interest in, though it has been mentioned that only those who have chosen to receive notifications will be sent them.
The tool can help brands promote their events, their new products, and offerings to people who expressed interest, but maybe did not add them to their calendars.
In an advertisement for a TV show's season premiere, Instagram showcased the new feature called "Remind me" to better explain and demonstrate how it works. It shows that by selecting this option, you can set reminders for the selected event at different times, which are for one day before, for 15 minutes before, and at the start time.
Over the years, Instagram has continuously increased the number of ads on its platform. These ads now populate across the Explore page, Explore feeds, Reels, Stories, and user profiles.
What could have inspired these changes? What do they mean for businesses?
It has recently been reported by Statista, that the number of Instagram users in the United Kingdom (UK) increased by 5.4 million between 2020 and 2021.
This was likely due to the pandemic encouraging many businesses to turn to online and digital marketing solutions, with an increasing number of businesses using Instagram to promote themselves and grab the attention of users.
As more ads are constantly being added to Instagram, it could become more difficult and competitive to get noticed on the platform. This would mean that businesses must continue or will need to start creating exceptional content to successfully connect with users, even with the growing number of ads.
What challenges could Instagram face?
It's important to remember that Instagram is now facing intense competition from TikTok, which has experienced exceptional growth over the last two years.
It would then make sense that Instagram is introducing new ways for businesses to reach its highly engaged community. However, it remains to be seen whether these new ad formats will inconvenience regular users and prompt them to seek out alternative platforms, which essentially put their needs before the needs of businesses.
Instagram launched Reminder ads and initiates testing for Search Result Ads

Reminders ads are now available to all advertisers globally. The post Instagram launched Reminder ads and initiates testing for Search Result Ads appeared first on Search Engine https://t.co/icol01zB7h

— Ivica Delic (@Free_LanceTools) March 22, 2023
To Summarise
Instagram appears to seemingly be prioritising businesses over individual users by adding more advertisements in its search results. This new feature being offered can be used by businesses to increase their reach and advertise their products or services to a wider audience.
However, it still remains uncertain whether regular and frequent users will consider these advertisements bothersome and switch to different platforms. It will be important for Instagram to remember to maintain a balance that considers the needs and preferences of both businesses and individual users, regardless of the end result.