Decades back, the High Street was the only way to shop. Later, with the rise of eCommerce websites, it seemed like physical stores had no chance to compete and would soon be a thing of the past.
However, High street, which was debated to be dead, is still around and it's just changing its shape. The shopping trends of today's consumers are rapidly evolving, with an increased demand for service-based products such as restaurants, hair salons and tattoo parlours exceeding the desire to purchase goods.
As a result, High Street has seen tremendous growth in its offerings – making it better than ever!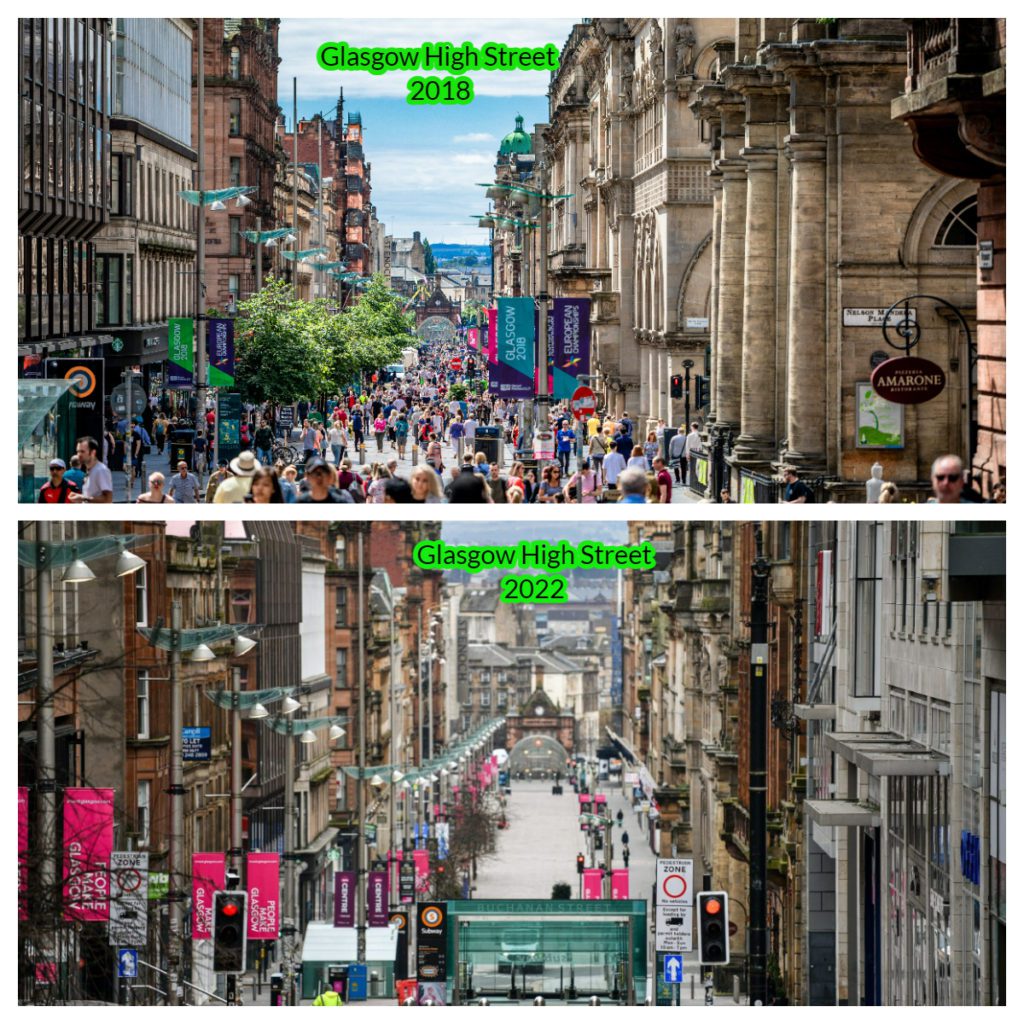 What are High Streets?
High Streets are the main thoroughfares of cities and towns. They are usually lined with shops, restaurants, and other amenities that cater to the local population. Many High Streets also have a range of services such as banks, post offices, and government offices.
High Street is a popular moniker for the main business avenue in many towns, cities and villages around the world, particularly across the United Kingdom and Commonwealth. It symbolises that it's where most of your shopping desires can be fulfilled – from big-box retailers to local businesses; High Street has you covered! It is also a metonym for the retail sector.
Britain boasts a grand total of around 5,300 streets with the name High Street or one of its variations. Specifically, 3,000 are named solely "High Street" and 2,300 contain variant names such as Upper High Street or High Street West.
What Happened to High Street to Be Called Dead?
Due to the Impact of COVID-19 and subsequent lockdowns, many businesses on the High Street were forced to close. In 2020 alone, an astounding 17,500 high street stores shuttered their doors forever. Debenhams closing in May 2021 and John Lewis closing over 150 shops, High street was believed to be in the hands of doom. All these had a devastating effect on retail, with stores unable to welcome customers in-store. Coupled with the growth of eCommerce, it seemed like physical stores had no chance to compete and was spoken of as dead.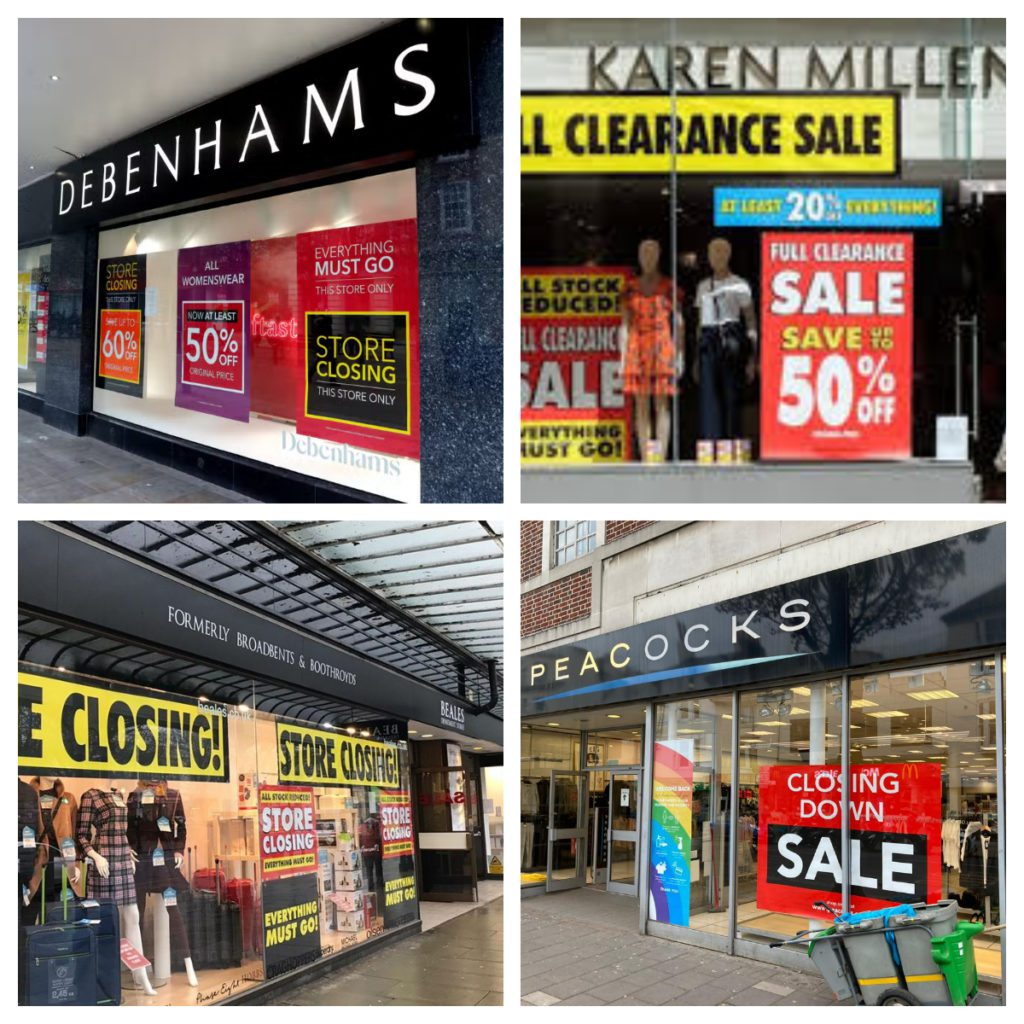 What is Changing in the High Streets?
However, the High Street is still around and it's just changing its shape. A BBC analysis has found that High street shops have transformed from retail outlets to service-based offerings, especially places to eat and drink, beauty salons and tattoo parlours. While the count of retail stores went down, other services such as cafes, pubs and restaurants went up.
According to the statistics released by BBC in partnership with Ordnance Survey, there's a 2.9% overall decrease in retail. Departmental stores declined by 13.4%, night clubs by 9.4%, clothes shops by 8.5% and 8.1%. On the other hand, eateries increased by 7.2%, hair and beauty by 5.9% and tattoo parlours by 8.2%.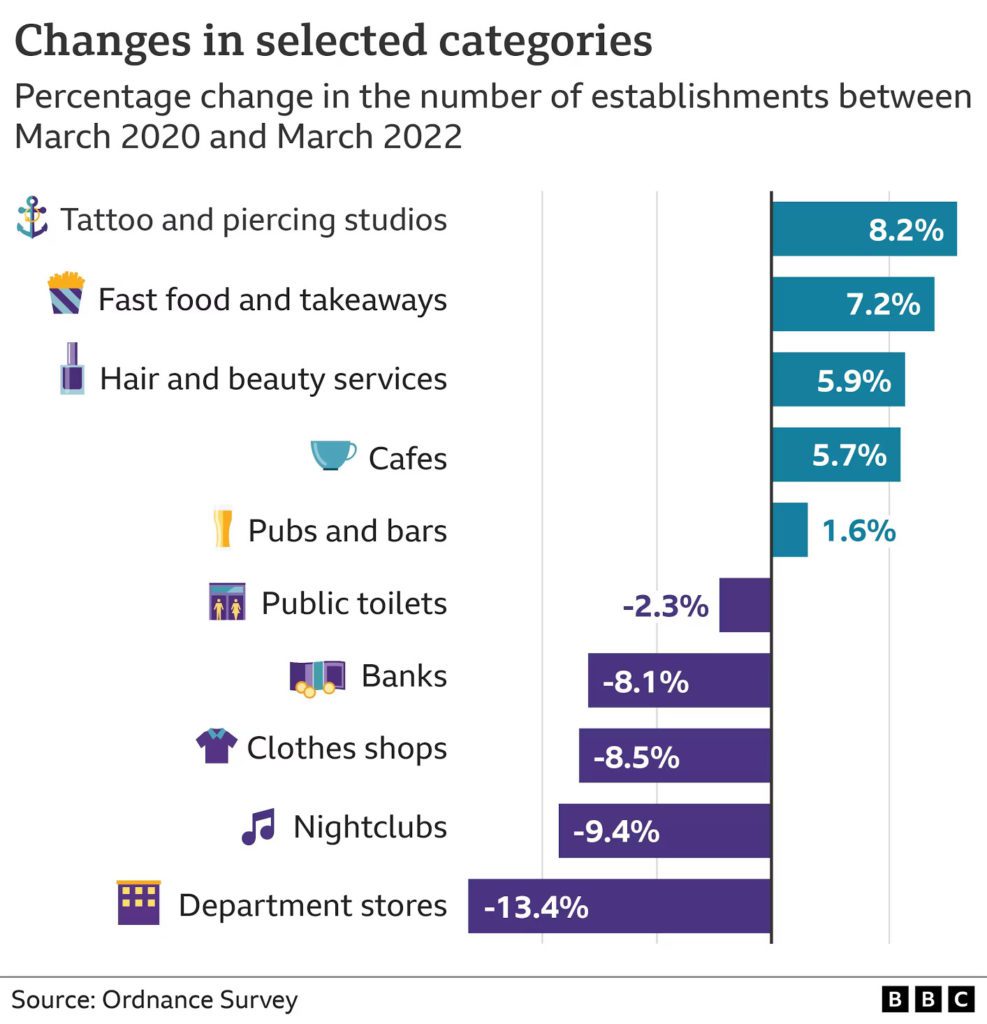 This shift in High Street's offerings is evidence that people are seeking experiences, rather than products. Consumers want to be able to go out for a meal or have a unique experience, such as getting their nails done or having a tattoo artist ink a design of their choice.
The vitality of the town centres and High Streets are thus not in danger but just changing. With the right measures, High Street can soon bounce back and might be better than ever!
All of this shows that High Street is not dead – it's just transforming to meet the needs of today's shoppers. It's clear that high streets are still a vital part of communities across Britain – and the whole world – and we must do all we can to ensure its survival.