Oat milk, an unstoppable force in the plant-based milk category, continues to captivate consumers with its allergen-friendly nature, creamy texture, and animal-friendly production.
In Canada, Häagen-Dazs, a Nestlé-owned brand renowned for its indulgent ice cream, has taken a bold step by introducing a new line of vegan ice cream made with oat milk.
This innovative offering reflects the company's commitment to inclusivity and ensuring that everyone, regardless of their dietary preferences, can savour the Häagen-Dazs experience.
Let's explore this enticing new lineup and the brand's journey into the vegan ice cream domain.
It's Häagen-Dazs' first foray into oat milk ice cream 🍨 https://t.co/SGiXdajW6N

— Plant Based News (@PlantBasedNews) May 19, 2023
Newly Released Line
Häagen-Dazs, a prominent New York-born ice cream brand that has been satisfying sweet cravings since the 1960s, expanded its product range to include vegan options in 2017.
Now, the brand has introduced its first-ever oat milk-based ice cream line in Canada, catering to the growing demand for plant-based alternatives.
The new lineup boasts three delectable flavours, meticulously crafted to provide a truly indulgent experience:
Chocolate Peanut Butter: The velvety richness of Häagen-Dazs' signature chocolate ice cream, adorned with generous swirls of creamy peanut butter.
Vanilla Raspberry Truffle: The smoothness of Häagen-Dazs' vanilla ice cream, delicately infused with ribbons of tangy raspberry and delectable truffle pieces.
Caramel Fudge Chip: The sheer decadence of Häagen-Dazs' caramel-infused ice cream, studded with fudge chips and tantalising almond-based caramel ripple.
Häagen-Dazs Popularity
Over the years, Häagen-Dazs has garnered immense popularity and a loyal following for several reasons. First and foremost, the brand has consistently delivered on its promise of unparalleled quality and indulgence.
With a rich heritage dating back to the 1960s, they have established themselves as a purveyor of premium ice cream, using only the finest ingredients and time-tested recipes, with each spoonful of ice cream being a luxurious experience, boasting a velvety texture and intense flavours that captivate the taste buds.
Moreover, Häagen-Dazs has demonstrated a remarkable ability to adapt to changing consumer preferences, expanding its range to cater to various dietary needs, including the introduction of its oat milk-based vegan ice cream.
By continuously innovating and staying true to its commitment to exceptional taste and craftsmanship, the company has certainly solidified its position as a beloved and sought-after ice cream brand worldwide.
Company Perspective
The Marketing Vice President at Nestlé Canada has emphasised the brand's belief that Häagen-Dazs should be accessible to everyone, irrespective of their dietary preferences. This dedication to inclusivity led to the creation of the Häagen-Dazs oat milk ice cream line.
Moreover, Nestlé aims to always cater to a diverse consumer base, by offering an exquisite range of vegan ice cream options that deliver the same level of indulgence and quality for which the brand is renowned.
Availability and Expansion
The Häagen-Dazs oat milk ice cream line is now available at most grocery stores across Canada, making it easily accessible to ice cream enthusiasts seeking delightful vegan options.
What's more, this expansion showcases the brand's commitment to meeting the evolving demands of consumers who seek plant-based alternatives without compromising on taste and texture.
By embracing oat milk as the base ingredient, Häagen-Dazs has tapped into the growing popularity of this dairy-free alternative, catering to the increasing number of consumers wishing to embrace a vegan lifestyle.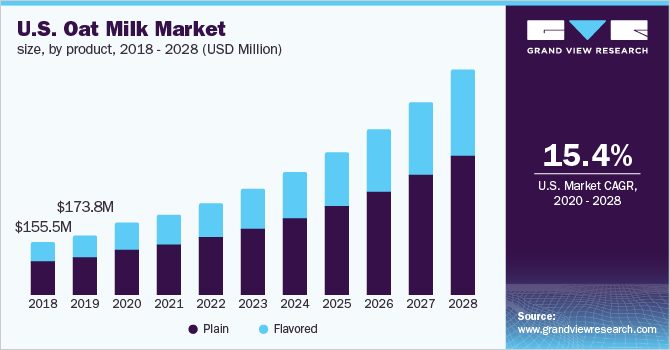 The Evolution of Vegan Ice Cream
Häagen-Dazs first ventured into the vegan ice cream market in 2017 with four initial flavours. Over the years, the brand expanded its range to include bars and additional pint flavours.
Furthermore, Nestlé's sale of its United States ice cream business in 2019 allowed Froneri, a joint venture with PAI Partners, to consolidate and compete with ice cream giant Unilever.
Meanwhile, Häagen-Dazs continued to innovate by releasing a plant-based indulgence line under its Drumstick brand in 2020, captivating the taste buds of discerning consumers seeking vegan treats.
The Rising Trend of Vegan Ice Cream
It has become apparent that the demand for vegan ice cream has surged in recent years, driven by consumers' increasing focus on ethical and sustainable food choices.
While vegan ice cream companies like NadaMoo! and So Delicious have long catered to dairy-free consumers, traditional dairy brands have also embraced the trend.
Ben & Jerry's, renowned for its wide range of indulgent ice cream flavours, introduced almond milk-based pints in 2016 and has since expanded its vegan portfolio to over 20 flavours globally. Additionally, Breyers and Magnum, both owned by Unilever, have also entered the dairy-free market with their almond milk-based and oat milk-based offerings.
Also joining the oat milk ice cream movement, Oatly, a leading vegan company, recently introduced two exciting flavours to its oat milk-based ice cream range: Banana Split and Chocolate Chip Cookie Dough. These enticing options further complement Oatly's existing lineup, which includes flavours such as Fudge Brownie, Salted Caramel, and Raspberry Swirl, among others.
What's more, the stunning flavours are available at Whole Foods Markets, Schnucks, and Albertsons nationwide, with Oatly's diverse selection also catering to the growing demand for flavorful and sustainable vegan treats.
Conclusion
To summarise, the introduction of Häagen-Dazs' oat milk-based ice cream line marks a significant milestone for the brand, furthering its commitment to providing inclusive indulgence for all consumers.
By embracing oat milk, Häagen-Dazs has harnessed the growing popularity of this plant-based milk alternative while delivering a creamy and delicious experience. With the Canadian market now able to enjoy this innovative lineup, the future of vegan ice cream continues to evolve, driven by consumer demand and a desire for more sustainable and compassionate options.
As brands like Häagen-Dazs and Oatly expand their offerings, the world of vegan ice cream is becoming even more enticing, proving that indulgence and compassion can beautifully coexist. It will certainly be exciting to see what other tasty flavour combinations will become available in the future, and which other big ice cream brands will follow down the vegan path.