In a stunning comeback story, Pret A Manger, the beloved coffee and bakery chain, roared back to profitability last year, marking a triumphant return to financial success for the first time since 2018.
The resurgence, which was catalysed by the launch of their innovative subscription service, proved to be a game-changer, allowing the brand to weather the storms of the Covid crisis with remarkable resilience.
A Subscription Service for the Ages: Club Pret
Amidst the challenging times of pandemic lockdowns when office workers were confined to their homes, Pret a Manger found its salvation in Club Pret, the revamped subscription service that took the market by storm when it debuted in September 2020.
Although the subscription cost increased by a fifth to £30 a month, subscribers gained not only a delightful 10% discount on food and snacks, but also the privilege of up to five hot drinks daily.
Therefore, this made the allure of Club Pret undeniable. Not only did it grant subscribers a sense of normalcy amidst the pandemic, but it also allowed Pret to stay connected with its loyal customers in an unprecedented way.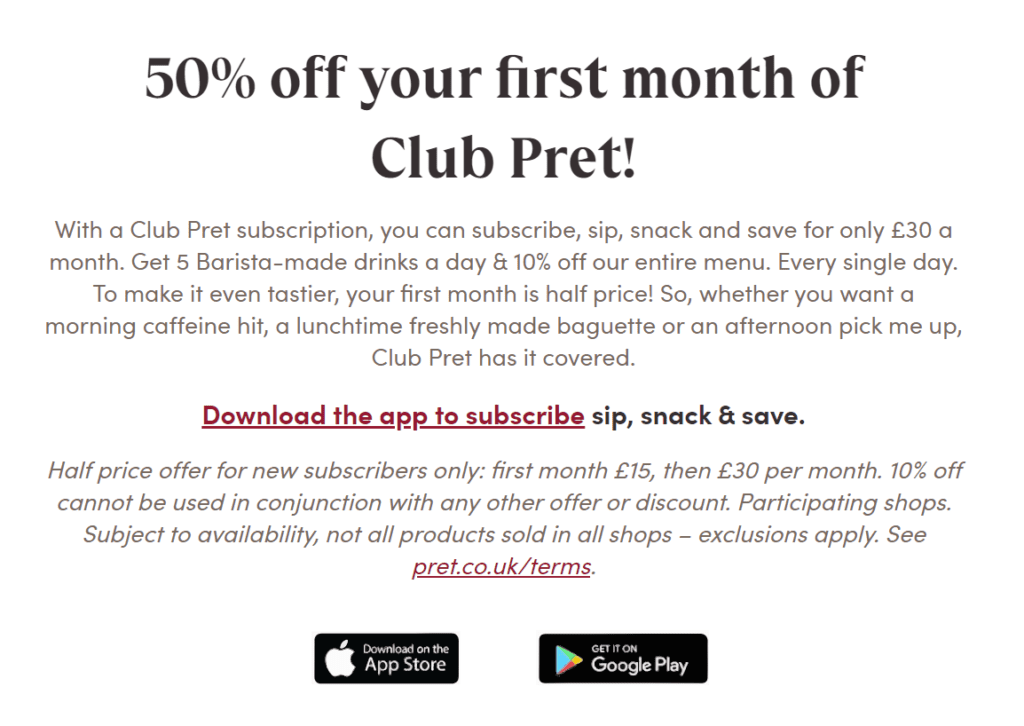 By providing a convenient and cost-effective way to enjoy their favourite treats, the subscription service quickly garnered a massive following. Testimonials from satisfied customers flooded in, praising the personalised experience and the joy of receiving their daily pick-me-up, even amid the uncertainty of lockdowns and remote work.
What's more, the appeal of Club Pret extended far beyond its home base in the United Kingdom. In 2022, a staggering 57.9 million redemptions were recorded globally, a two-thirds surge from the previous year. With such exponential growth, Pret's subscription model had firmly established itself as a key driver of the brand's revival.
Revenues Soar, Propelled by UK and International Success
Buoyed by the resounding success of Club Pret, Pret a Manger's revenues soared to an impressive £430 million in the six months leading up to the end of June this year, showcasing a remarkable 20% jump. Furthermore, the UK, which hosts 446 Pret shops and employs 8,000 individuals, witnessed an astounding 16% increase in sales during the same period.
Despite the challenges posed by the ongoing cost of living crisis, which left households with less spare cash to spend, and disruptive strikes on trains and at schools putting a damper on sales, Pret's unwavering commitment to quality and customer satisfaction prevailed.
The company's ability to adapt its offerings to meet evolving consumer needs, such as introducing a wide range of vegan and vegetarian options and expanding their breakfast menu, played a crucial role in attracting and retaining customers.
Moreover, Pret's international expansion was a driving force behind its impressive revenue growth. With operations now spanning 15 countries across three continents, the brand solidified its position as a global coffee and bakery powerhouse. International sales contributed significantly, accounting for 19% of its total revenue.
From Loss to Profit: The Remarkable Turnaround
Pret's inspiring revival did not happen overnight. In the year leading up to December 2022, sales surged by a staggering 71%, reaching a remarkable £790 million. The company's annual operating profit astonishingly rebounded from a loss of £168 million to a robust £50.6 million, a testament to the brand's unwavering determination and strategic adaptations.
What's more, one of the most remarkable factors contributing to Pret's resurgence was its swift response to challenges in the hospitality industry. As the sector grappled with labour shortages and intense competition for talent, Pret took a bold step, raising wages twice last year to attract and retain skilled employees.
Impressively, it's worth noting that this investment in its workforce paid off, resulting in a committed and motivated team that consistently delivered exceptional service, further solidifying Pret's reputation as a customer-focused brand.
Introducing the all new (woohoo!) Club Pret! Join between 26 April and 3 May to be in with the chance of getting your subscription free for a year or free for LIFE. https://t.co/dgT24KjNw9

(Terms and exclusions apply. See https://t.co/tm1yWU4Yjn.) pic.twitter.com/wbuD8evVmM

— Pret (@Pret) April 26, 2023
JAB Holding Company's Steadfast Support
Guided by the astute stewardship of JAB Holding Company, a Luxembourg-based investment vehicle owned by Germany's billionaire Reimann family, Pret a Manger's revival found unwavering support. This strategic alliance allowed the brand to chart its path to success amidst the rise of remote work, resulting in the establishment of outlets outside city centres and an impressive 55% of new Pret shops opening outside London since January 2022.
Furthermore, by recognising the evolving work patterns and lifestyle preferences, Pret capitalised on the opportunity to meet its customers where they were. With the rise of hybrid work models, the demand for local, neighbourhood cafes surged. By expanding its footprint beyond bustling city centres and venturing into residential and suburban areas, Pret solidified its position as a go-to destination for office workers and local communities alike.
A further testament to Pret's adaptability was its decision to open 70% of its shops during weekends, a staggering 85% increase from 2021. This bold move not only catered to the changing habits of consumers but also boosted weekend trade by a remarkable 271% over the past two years, reflecting the brand's commitment to continuous innovation and customer-centricity.
A Vision for the Future
As Pret a Manger continues to build on its resounding success, the brand has its sights firmly set on the future. With a clear vision, the company aims to expand its global footprint even further, targeting over 700 shops overseas by the end of 2023, a significant step up from its current count of 600.
Therefore, this just shows that the pursuit of excellence remains unyielding, underlining Pret's commitment to serving its loyal customers with utmost dedication and innovation.
Moreover, Pret plans to bolster its digital infrastructure, leveraging cutting-edge technology to enhance the customer experience further. From streamlining order-ahead capabilities to exploring AI-powered menu personalisation, the brand aims to stay at the forefront of industry trends while retaining its core values of quality, freshness, and sustainability.
Conclusion
Pret A Manger's spectacular turnaround from the depths of financial hardship to reclaiming profitability is a testament to resilience and adaptability.
Buoyed by the resounding success of Club Pret, the subscription service that captured the hearts of millions worldwide, the brand not only navigated the challenges posed by the Covid crisis but emerged stronger than ever.
Furthermore, with the unwavering support of JAB Holding Company and an unyielding commitment to excellence, Pret a Manger stands as a shining example of triumph amidst adversity, promising a future that is as bright as the smiles of its satisfied customers.