As the holiday season draws near, the advertising world is gearing up for a festive extravaganza like no other.
According to data from the Advertising Association and Warc, advertisers are poised to unleash a dazzling £9.5 billion in spending this Christmas season, a remarkable 4.8% surge compared to the previous year.
But what's driving this yuletide advertising bonanza? Inflation, emerging media, and timeless classics all play their part in this seasonal spectacle.
The Inflation-Infused Surge
In an economy grappling with inflation, it's no surprise that advertising budgets have swelled. Much of the projected growth can be attributed to the rising cost of living, with real term growth expected to be a mere 0.3% in the fourth quarter.
However, beneath the surface of inflationary pressures, there's an underlying optimism among brands. The director of data, intelligence, and forecasting at Warc points out that brands are increasing their investments because they recognise the value of Christmas advertising.
Emotive display ads and performance marketing within retail media environments are among their chosen strategies.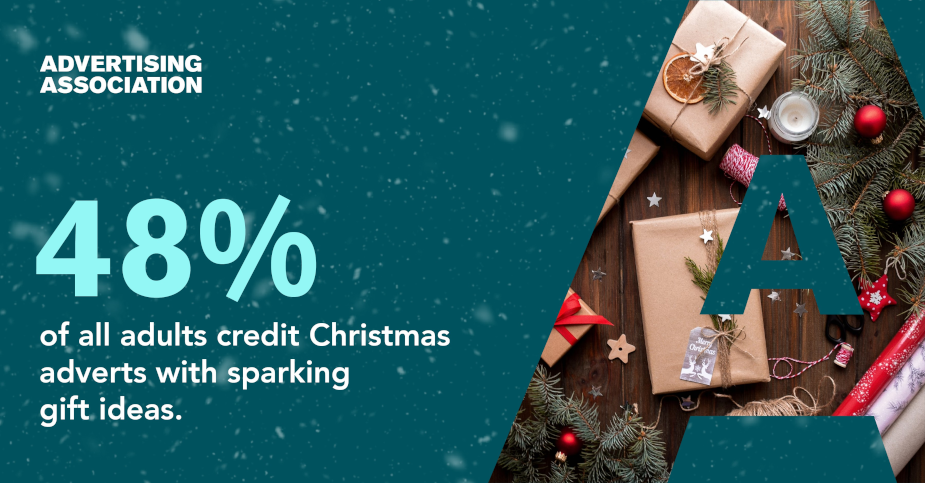 Media on the Rise
This year's advertising spree is seeing brands diversify their investments, spreading their cheer across a multitude of media channels. Broadcast video on demand is set to soar by an impressive 20.2%, while out-of-home advertising is predicted to grow by 10.3%.
Furthermore, online display advertising is not far behind, with a projected growth rate of 9.1%. However, television remains a focal point, with £1.5 billion earmarked for it in the final quarter, although it represents a slight dip of 0.2% compared to the previous year.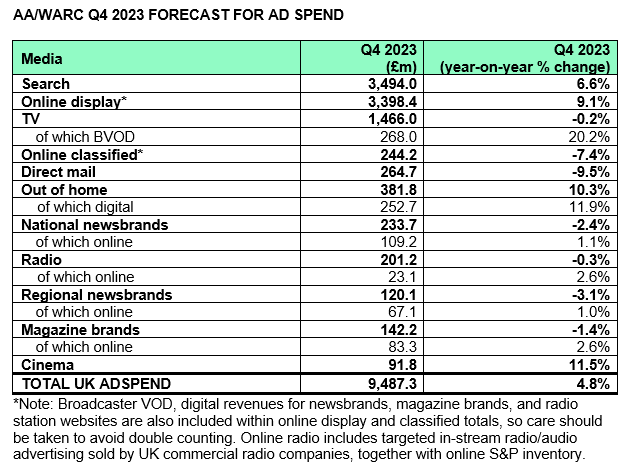 Christmas Ads: A Gift for Advertisers
The Christmas advertising season isn't just about spending; it's also about reaping the rewards. According to AA/Warc, the festive season is poised to inject a staggering £430 million into the advertising industry, accounting for 47% of this year's overall growth.
Moreover, brands are getting an early start on the festivities, and for good reason. Nearly half (48%) of adults admit that festive ads provide them with valuable gift ideas, while 70% of those aged 25 to 34 view Christmas ads as the ultimate mood booster.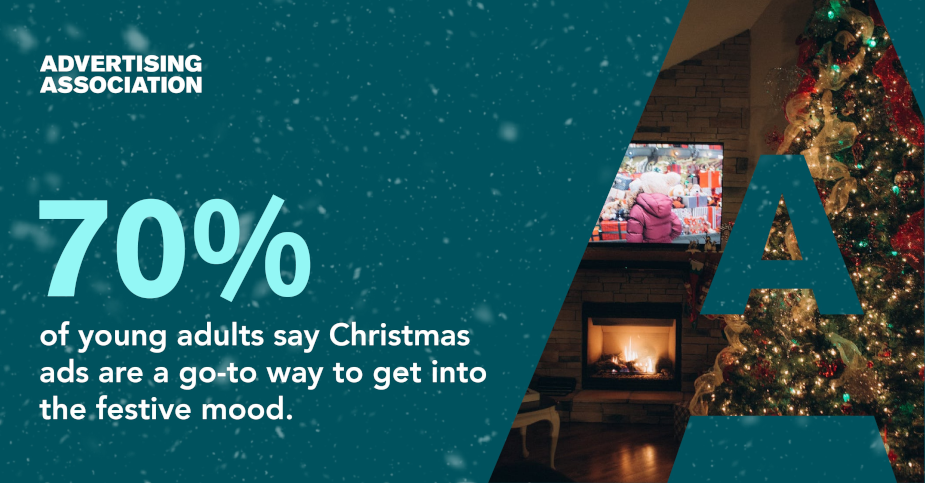 Ad Brilliance: The Standouts
While many brands have joined the Christmas ad race, some have already left a lasting impression.
Aldi's whimsical Willy Wonka parody featuring Kevin the Carrot has emerged as the front-runner in ad effectiveness, scoring a perfect 5.9 stars according to System1.
Other top performers include M&S Food, Sainsbury's, Vodafone, Coca-Cola, and Boots, all earning above 5 stars for their festive creations.
Brands' Strategic Moves
Brands are not only increasing their spending but also their strategic approaches. They're tapping into both emerging and traditional media to reach their audiences. Broadcast video on demand's meteoric rise indicates the shift in viewer preferences, while out-of-home advertising retains its effectiveness in grabbing the attention of those on the go.
Furthermore, online display advertising continues to be a robust choice in our digitally connected world. Even though television spending has seen a slight dip, it remains a pivotal channel for engaging consumers during the festive season.
The Christmas Boost
The Christmas ad season is set to be an even bigger boost to the advertising industry than usual.
Performance in the fourth quarter will add £430 million to 2023's total market value, while the figure for the first nine months stands at £486 million, meaning the festive season is accounting for 47% of all growth this year, according to AA/Warc.
This rise is broadly in line with, if not slightly ahead of, what would be expected based on current economic conditions.
Conclusion
This Christmas season, advertisers are pulling out all the stops, with record-breaking investments and a plethora of creative campaigns set to dazzle audiences. Inflation may be driving some of the surge, but the data also reveals an industry that understands the potent magic of Christmas advertising.
As brands usher in the holiday spirit earlier each year, they tap into the hearts and wallets of consumers, creating an advertising extravaganza that promises to be a true gift to the industry and a cherished part of the holiday season for all.
This year's Christmas ads, from Aldi's Kevin the Carrot to the heartwarming offerings from M&S Food and others, are sure to provide the festive cheer we all need, uniting us in the spirit of the season and reminding us that, even in challenging times, joy and creativity can shine through.