In recent years, many retail chains have faced the threat of closure or downsizing, causing the high street to experience constant changes.
Joining the trend of recent closures is discount retailer B&M, which has announced store closures and relocations that will be occurring across the country.
As customers, it can be frustrating when a favourite store is no longer accessible, so let's take a closer look at where B&M is closing down, and what this might mean for the future of the company.
Which stores are affected by these closures?
B&M is in the midst of closing some stores, with some already closed and others scheduled to close soon. Most of these closures have been happening since the beginning of this year, with the final store set to close at the end of May.
A store in Castlegate Shopping Centre, Stockton was closed on 25 February 2023. Additionally, in March, Maesglas Retail Park in Newport, Queens Drive Retail Park in Kilmarnock, and Boucher Road in Belfast all closed down as well.
The Bishop Auckland site in County Durham ceased operations on May 5, 2023, while the Widnes location in Cheshire is set to shut down two weeks later, on May 17. The final closure will be the Bolton branch located at Burnden Retail Park, which will close on May 24th.
B&M is closing stores up and down the country and relocating others as it joins the growing trend of high street closures.

See morehttps://t.co/2Ez7PVs8Nq#lifestylebyswish pic.twitter.com/JnHltaaAPi

— Lifestyle (@lifestyle_swish) April 29, 2023
Future plans for the company
Although some stores are being closed, B&M will still have a presence on the high street.
On 24 May, the company will relocate the Widnes store to a brand new location, and their Bolton store will not completely shut down, as a store on Manchester Road nearby will remain open.
In addition, there is some good news for customers as B&M has already launched a number of new stores across the UK this year and intends to continue expanding its range.
What are the reasons behind the closures?
The real question to be answered is why are B&M stores closing? Well, one reason is partly due to changes in the retail industry and the other is partly due to B&M's own approach.
The company is considering closing stores that are performing below expectations in order to simplify its operations and concentrate on locations that are more profitable.
Like many other retail chains, B&M may be experiencing ongoing financial difficulties caused by the pandemic. Over the past few months, there have been multiple instances of high street stores, like Debenhams and Topshop, going bankrupt entirely.
Therefore, B&M's choice to reorganise instead of shutting down completely may suggest more optimistic outcomes.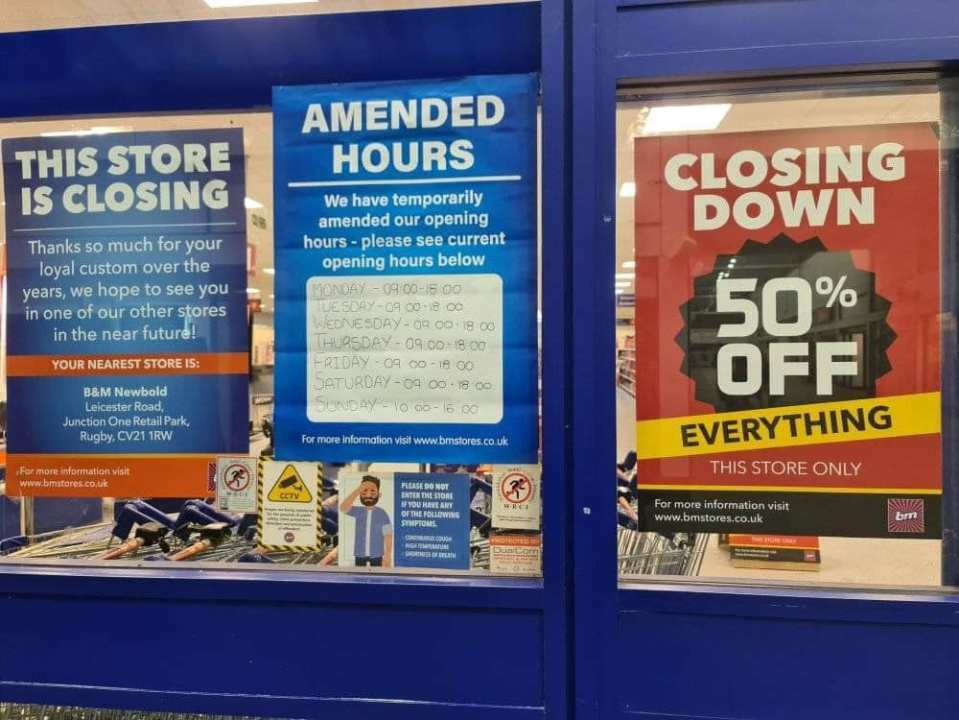 How can companies avoid more future closures?
The retail industry is facing tough times, but companies can take steps to reduce the threat of closure and ensure their longevity. B&M has already applied some of these methods, such as restructuring its business to focus on more profitable stores and expanding into new areas.
Other strategies that businesses can use include investing in digital technology to improve customer experience, diversifying product offerings, and collaborating with other retailers.
Companies should also strive to create positive relationships with customers by providing quality customer service and responding quickly to complaints. Ultimately, the goal is for businesses to remain relevant in an ever-changing retail landscape.
Conclusion
The closure of some B&M stores is unfortunate for customers in those areas. However, it reflects a larger pattern of retail chains facing tough decisions due to difficult economic conditions.
It is important to note that B&M is not completely abandoning the high street. The company is still planning to open new branches and move some of its existing ones, offering many exciting opportunities for growth.
It will be intriguing to observe how B&M, and other physical stores, adapt and expand in the future, as the retail industry continues to keep changing and progressing.