In order to remain competitive and meet fluctuating demands, Tesla is revamping their marketing strategy in China to contend with aggressive domestic rivals.
In order to appeal to a variety of buyers, the renowned EV producer has made strides in providing insurance subsidies up to 8,000 yuan (£900), reactivating its user referral program and even marketing on local television networks.
Return To Television Ads
Using television advertising as part of marketing is a rare move for Tesla as the company prides itself on avoiding traditional advertising methods. Previously, Elon Musk, co-founder and CEO of Tesla had tweeted that Tesla does not advertise or pay for endorsements. In his words, "Instead, we use that money to make the product great". 
Tesla does not advertise or pay for endorsements. Instead, we use that money to make the product great. https://t.co/SsrfOq1Xyc

— Elon Musk (@elonmusk) May 19, 2019
In the face of continued Covid-19 restrictions and a more competitive local market, Tesla recently cut down their prices across its Chinese line-up for the first time in over a year. This action was taken to address mounting challenges facing them within China. The likelihood of increasingly difficult conditions in China has weighed down the carmaker's stock prices, bringing them to a two-year low in October 2022.
Elon Musk's Sales Goals
Recently, Tesla upgraded their Shanghai factory to boost production up to an astonishing 1 million vehicles annually. Yet unfortunately, the company is struggling to meet those goals as wait times for their cars in China have drastically decreased from 22 weeks down to merely one week! It seems that even though Tesla has improved production levels and efficiency, they are still unable to reach the consumer demand needed for success.
Tesla plans to double Giga Shanghai output, making it 'world's largest vehicle export hub' https://t.co/qDUE9R6bD5 by @KlenderJoey

— TESLARATI (@Teslarati) May 3, 2022
Unless production is altered, Musk's annual global sales goals of 50% growth may be unattainable in the coming years. Elon Musk has previously mentioned that the automotive industry's demand is not as abundant due to China's residential real estate market cooling down and Europe facing an energy crisis. This statement was made after Tesla reported a lower-than-expected third quarter revenue.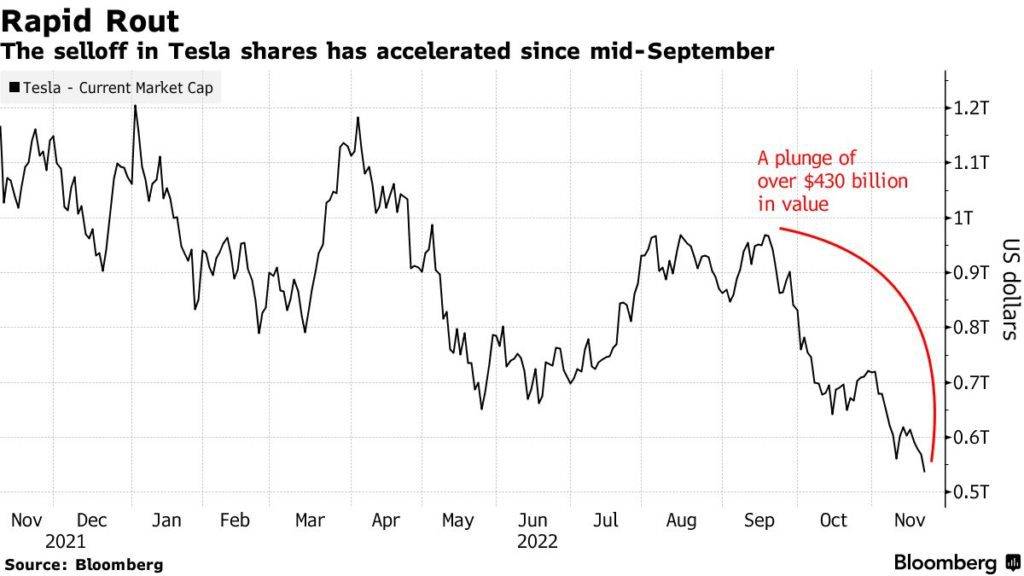 Tesla delivered a total of 71,704 vehicles from its Shanghai facility in October; although this figure was still impressive, it trailed the record-breaking 83,135 shipped in September.
The Chinese Competitive Market
China is taking the global electric vehicle (EV) market by storm, with its own automotive companies such as BYD Co. selling 217,816 vehicles in September alone and up-and-coming firms like Nio Inc. and Xpeng Inc. expanding their product lines rapidly to meet demand. Statistics from China's Passenger Car Association highlight that domestic car companies are dominating the EV market, representing nearly 80% of electric vehicle sales in the first seven months of this year.
Chinese consumers are enticed by local EV makers, who have provided features like in-built karaoke systems and fragrance diffusers as well as high-end customer service. Companies such as BYD and SAIC-GM-Wuling Automobile Co. provide a selection of economical vehicles that cater to budget-minded drivers who don't want to compromise on quality.
Tesla's Marketing Strategies
It is amidst this competition that Tesla is revamping their marketing strategy in China to appeal to the growing demands of local consumers. With its starting prices of 265,900 yuan and 288,900 yuan respectively for the Model 3 Sedan and a Model Y SUV, Tesla has been catering to affluent customers in China's major cities. Now they've set their sights on smaller towns where electric vehicles are still relatively rare.
In a revolutionary marketing strategy, Tesla asked prospective customers to propose cities for them to offer test drives in different cars. As an appreciation token of their participation, some respondents were even offered use of a Model 3 car for one week! This was a monumental shift from their previous approach which involved persons going to the nearest showroom.
Even though these strategies were expected to help Tesla attract more customers in China, especially in smaller towns where the need for electric vehicles is still high, it did not work as they expected.
In December 2022, Tesla made the difficult decision to reduce Model Y and Model 3 production output by 20% at its Shanghai factory. This is due to the fact that sales of their electric vehicles in China have been lower than anticipated. In order to stay within budget, Tesla will be shortening shifts, delaying new hires and taking other cost-saving measures as a result.
Therefore, even though Tesla tried experimenting with different marketing strategies, their decision to reduce production at its Shanghai factory shows that the demand for their cars in China is still lower than expected. It is essential for Tesla to devise new strategies if they want to successfully meet the annual global sales goal of 50% growth. Otherwise, the company may face long-term issues in terms of achieving their goals.