In a stunning move, McDonald's has recently launched an advertisement campaign named "Raise Your Arches" that does not include any of the restaurant or their food.
Raise Your Arches Ad
A powerful video that caught the attention of many was released to launch the campaign. It highlights a creative story wherein multiple office workers join forces and head out for lunch at McDonald's, without uttering one syllable!
Leo Burnett's captivating advertisement showcases the notion that McDonalds is so popular, it can be communicated with nothing more than an eyebrow wiggle!
This social-first campaign is dedicated to the iconic knowing look, featuring a series of through-the-line ads and activations that will get everyone raising their arches in solidarity!
Edgar Wright, the creative brain behind worldwide success stories like Baby Driver, Last Night in Soho and Shaun of the Dead, directed this movie. Moxie Pictures was responsible for producing it.
Raise Your Arches in Social Media
McDonald's is taking social media to the next level by creating innovative Snapchat and Instagram lenses that will dramatically lift your arches, urging you to introduce your friends to their mouth-watering products! The McDonald's app also has an option to click a selfie raising arches and grabbing an offer.
McDonald's iconic Golden Arches sky signs are being digitally transformed into a stunning animated display, mimicking the eyebrow raise seen in the movie. At McDonald's restaurants, you can witness this spectacular takeover as the 'M' logo is cropped and brought to life!
People are also encouraged to take pictures with their distinguished eyebrow wiggle and share them online with the hashtag #RaiseYourArches.
The campaign has already gained immense popularity, as people have already started sharing their own versions of Raise Your Arches on social media! 
Pudsey wants to show his friends at @McDonaldsUK some Friday feeling.

One arch only, of course!#RaiseYourArches #McDonalds pic.twitter.com/LuoWttfV8n

— BBC Children in Need (@BBCCiN) January 27, 2023
The Success of the Strategy
The campaign by McDonald's has been successful in engaging with the audience and has created a buzz on social media. It has accomplished its goal of connecting with new customers as well as reminding old ones of the restaurant's iconic status.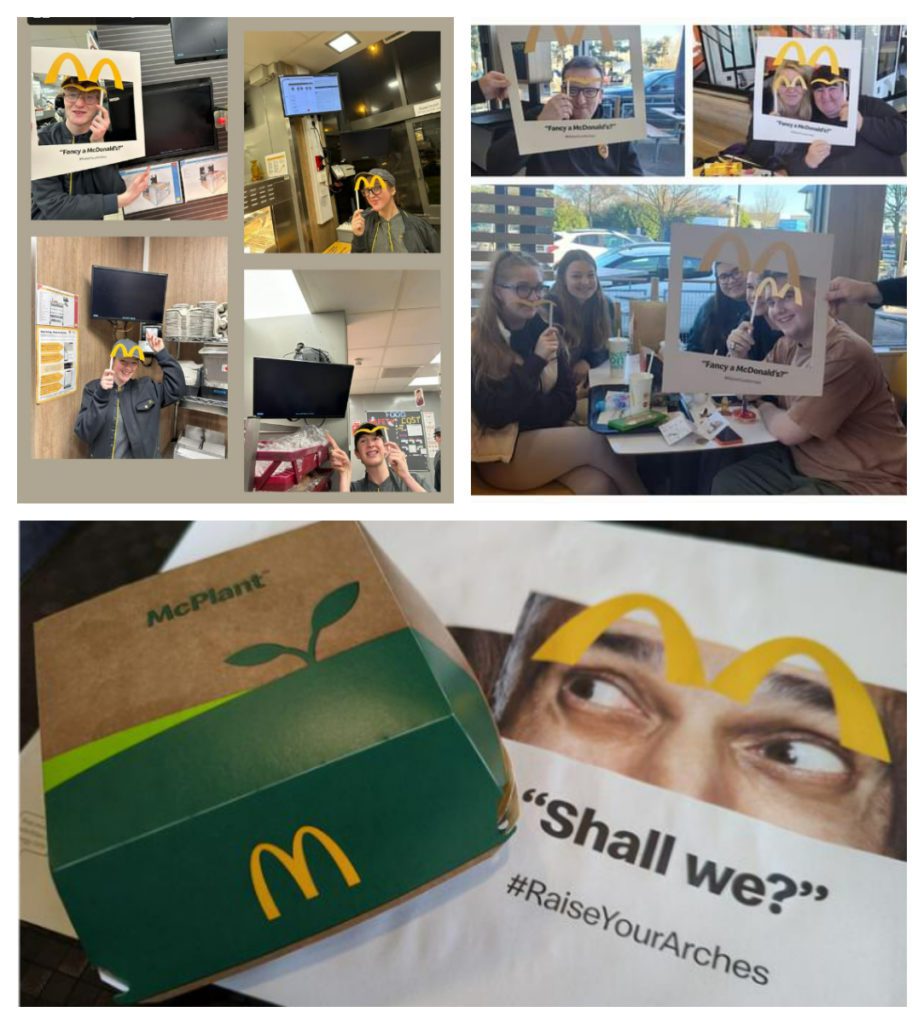 The innovative concept of not showing any food images has certainly made an impact and McDonalds has achieved success in creating an emotional connection with its target audience. It is a great example of how you can have an impactful ad campaign without actually showing your product.
It will be interesting to see further developments in the campaign and how it helps McDonald's grow its brand presence even more.