You don't have to be a petrolhead to care about the fate of the Morgan Motor Company, the quintessentially English car maker based in Malvern, Worcestershire since 1909. Morgan, renowned for its sports cars that zip along country lanes, is to automobiles what Henry Poole is to bespoke suits, a hallmark of British excellence and craftsmanship for generations.
However, its journey took a significant turn four years ago when the private equity house InvestIndustrial acquired the company, ending 110 years of ownership by the Morgan family.
Since the acquisition, Milan-born Massimo Fumarola has been at the helm, taking charge of the business in April 2022. With 30 years of experience in the automotive industry, including stints at Ferrari, Audi, and most recently, as head of project management at Lamborghini, Fumarola's appointment brought a breath of fresh air to Morgan's time-honoured legacy, exuding enthusiasm and determination as he describes his mission, which is to help Morgan exploit its full potential and elevate the company to the next level.
Massimo Fumarola's Vision for Morgan's Global Expansion
Despite the apparent differences between Lamborghini's flashy supercars beloved by crypto traders and celebrities, and Morgan's traditional designs that typically appeal to Boomers looking to enjoy their hard-earned money, Fumarola claims to have a lifelong love for Morgan's vehicles, making the job an irresistible opportunity.
What's more, his childhood neighbour had a Morgan and would regale him with stories about the vehicle and the company behind it. According to Fumarola, a car says a lot about the culture of the people behind it, and that's why he has admired the Morgan brand since he was a boy.
Interestingly, Fumarola's vision for Morgan revolves around expanding its customer base, going international, and designing new cars. He recognises that the traditional customer base is ageing, and to make Morgan more relevant, he aims to attract a new audience of customers, those in their 40s and 50s.
With the company investing in digital marketing and hosting more events, Morgan aims to rejuvenate its brand image while preserving its heritage and charm. Also, to further extend its reach, Morgan has forged partnerships with other upscale brands such as the fashion label, Orlebar Brown and the luggage maker, Malle London.
Additionally, Fumarola has spent a considerable amount of time reorganising Morgan's international distribution network, a critical step in expanding the company's global presence.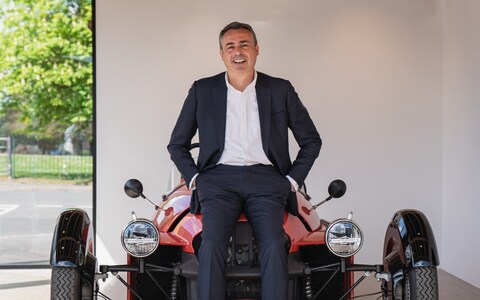 Navigating the Road to Electric: Challenges and Opportunities
As Fumarola takes charge, the automotive industry faces a transformative shift towards electric vehicles, again recognising the urgency to prepare Morgan for the future, with a focus on achieving net-zero carbon emissions. To accomplish this, Fumarola faces the daunting task of making Morgan's vehicles electric while maintaining their unique and iconic appeal.
The most significant challenge lies in launching the brand's first all-electric car before the 2030 deadline for banning new internal combustion engine cars in the United Kingdom and other regions. This has left the company contemplating whether to electrify the Super 3, the Plus Six, or introduce an entirely new all-electric model while preserving the quintessential Morgan identity.
Moreover, Fumarola expresses that he aims to strike the perfect balance, making Morgan cars lighter, more fun to drive, more handmade, and unconventional while simultaneously enhancing their comfort and versatility, with this ambitious approach set to be realised within the next three years.
Striking the Balance: A Timeless Brand Embraces Innovation
Interestingly, Fumarola's passion for innovation doesn't stop at electric vehicles; it extends to updating and diversifying Morgan's existing models. Improvements are planned for the Super 3, which was only introduced in February last year, as well as the marque's flagship Plus Six model. These updates will deliver more comfort, improved ergonomics, and additional Grand Tourer (GT) capabilities, hopefully enticing customers to opt for new models instead of second-hand ones.
Additionally, Fumarola envisions making the mid-range, 50-year-old Plus Four model more heritage-focused, ensuring that each model has its unique appeal while still adhering to Morgan's timeless identity.
Scaling Up for a Global Future
To fulfil his ambition of transforming Morgan into a global brand, Fumarola knows that production must scale up. Historically, the company has manufactured only around 600 cars a year on average. Increasing production was advice previously given by businessman Sir John Harvey-Jones in the 1990s during his visit to the then-struggling company as part of his BBC series Troubleshooter.
Fumarola expresses that there is room to make these cars lighter, more fun to drive, more handmade, more analogue, and more unconventional, all while making them more comfortable, more usable, and more versatile. Working in both directions, the company is poised to make significant strides in the next three years.
Conclusion
Under the guidance of Massimo Fumarola, Morgan Motor Company is revving up its tradition to embrace a dynamic and promising future. With a strong commitment to going global, transitioning to electric, updating their models, and scaling up production, Fumarola aims to preserve Morgan's timeless charm while appealing to a broader market.
Though the journey ahead may be challenging, it's clear that Fumarola's passion and dedication to Morgan's heritage and excellence make the road to the future all the more exciting and promising. As Morgan carves its path toward a net-zero future, it is evident that the company's iconic legacy will continue to thrive in the hands of a visionary leader like Fumarola.