Today marks a groundbreaking moment in endpoint management and security. Microsoft is introducing the revolutionary new Microsoft Intune Suite, bringing together top-level advanced endpoint management and security services into an easy to use package.
The revolutionary Intune Suite can streamline and enhance customers' endpoint management, providing them with the most secure user experience available. With this suite at their fingertips, users will be able to stay ahead of any potential threats while still enjoying an exceptional user experience.
The pairing of Microsoft Security and the Intune Suite with Microsoft 365 will offer IT and security teams invaluable access to data science and Artificial Intelligence (AI), granting them greater control over their endpoint management troubles. This collaboration makes it possible to move beyond reactive approaches towards taking a more proactive stance on overcoming persistent security challenges.
Microsoft Intune Suite is here, integrating mission-critical endpoint management and security solutions into one simple bundle. Learn more: https://t.co/RO3VQaNja6 #MSIntuneSuite #MicrosoftSecurity #AlwaysIntune pic.twitter.com/vfOEcEkmGn

— Microsoft Intune (@MSIntune) March 1, 2023
What is The Microsoft Intune Suite?
Microsoft Intune is an industry-leading, unified endpoint management solution that organisations can rely on to maintain the optimal performance and security of their devices, software systems, and applications. Not only does it keep your technology up-to-date but also provides you with reliable protection so that you can trust in its effectiveness.
The changing work environment, increasing security risks, financial constraints and the broad range of devices used today have caused organisations to require assistance in simplifying their processes. Microsoft Intune Suite offers organisations the advantage of a centralised console to manage and keep track of multiple endpoints, regardless of platform. Furthermore, it provides insights into data consumption patterns for enhanced security.
What Does Intune Offer Its Users?
With the suite, users have a convenient way to oversee all their gadgets and examine activities like online file sharing or printing from any device attached to their company's network. By utilising this service, users will be able to better manage what goes on inside of their organisation while also having more control over security.
In addition, it encompasses mobile device management (MDM) functions to control which apps can be used in smartphones and tablets running iOS or Android. Furthermore, access restriction features ensure that only approved users have access to corporate information located on-premises file shares or in cloud storage.
Microsoft Intune Suite builds on the trusted and industry-leading endpoint management solution and brings together advanced cross platform capabilities. Learn more: https://t.co/tua5nFPL20 #MSIntuneSuite #IntuneInspired pic.twitter.com/9uzjNZBeXy

— Microsoft Intune (@MSIntune) March 10, 2023
By also offering advanced endpoint analytics features, the Intune Suite provides IT administrators with data-driven insights to understand, anticipate, and improve the user experience for all organisational employees, and with having Microsoft Tunnel for Mobile App Management, which provides a convenient micro-VPN service that allows corporate personnel to access important company resources from personal iPhones, iPads, Android phones and tablets, it means employees can take care of business after hours or on the go!
Finally, its integrated threat defence capabilities allow it to detect any malicious activity before it reaches their system or even spreads further, meaning that businesses can be at ease with the knowledge that all data is safe and will remain safe.
How Can It Help Businesses?
By leveraging the power of Microsoft Intune, organisations can efficiently manage their IT environment without having to enlist pricey outside assistance or bring on specialised personnel. The suite simplifies and streamlines operations while saving money in the process. Through the suite's unified console, users can quickly and securely create access rules for resources within their organisations to make sure they are guarded against outside threats.
The Remote Help tool within the suite is especially valuable for today's environment, since it provides help desk aid while employees work in the office or remotely, more frequently than ever before! With this innovative software, IT helpdesk teams are now empowered to provide remote assistance and troubleshooting on desktops and mobile devices while preserving a user's company identity.
The Intune Suite also cuts down on the tiresome process of negotiating and managing different contracts with numerous vendors. This streamlines collaboration between components, as well as training for various tools – all while saving time! Implementing the right cyber security measures results in less financial expenses due to employee downtime, as well as decreased IT help desk costs because of fewer incoming calls and more effective resolution for existing tickets.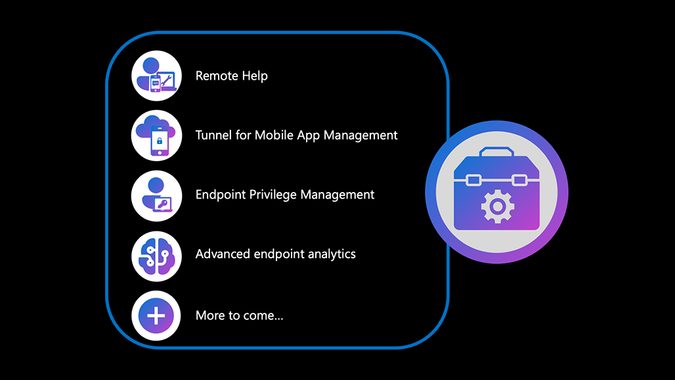 Are There Any Downfalls To Using Insuite?
Depending on the complexity of their system, users may need to dedicate time and resources to configure Intune Suite. This necessitates initial training for employees in how to use it, which can require an upfront investment in both time and money for businesses.
Furthermore, Microsoft Intune Suite lacks a comprehensive endpoint security solution such as antivirus and other similar tools. To gain access to these services, organisations must look towards third-party vendors for additional assistance in their Microsoft Intune Suite deployment.
To Summarise
Businesses can streamline and safeguard their IT infrastructures, while simultaneously cutting costs, by leveraging the powerful Microsoft Intune Suite. By utilising a single console, users can easily keep track of and manage their multiple endpoints across all platforms. Moreover, this unified system allows organisations to obtain visibility into data usage patterns for heightened security.
By offering swift setup and configurable rules, this can save both time and money by minimising overhead costs associated with keeping tabs on multiple products from disparate vendors.
Moreover, the suite provides comprehensive helpdesk and threat protection features that further bolster security. All in all, it is an excellent solution for organisations seeking to streamline their IT operations while maintaining data safety.