Domino's, the beloved pizza giant, is gearing up to launch a long-awaited loyalty scheme in the United Kingdom next year.
With the promise of enhancing consumer engagement and purchase frequency, the company is determined to bring a new flavour to its business strategy. While the exact launch date remains shrouded in mystery, Domino's is all set to serve up this exciting development by the end of 2024.
In this news feature, we will delve deeper into the details of Domino's loyalty scheme plans, its CEO's perspective, and the broader strategy behind it.
The Anticipation Builds
The UK will eagerly have to wait for the arrival of Domino's loyalty scheme, a significant move for the pizza powerhouse. Although the exact launch date in 2024 remains under wraps, Domino's CEO expresses unwavering commitment to driving consumer frequency through this innovative initiative.
The company's confidence stems from observing the success of Domino's US business, which saw a remarkable 1.7 times increase in purchase frequency in the first year after implementing its own loyalty scheme.
However, Domino's is keen to emphasise that a loyalty program isn't a magic wand, cautioning against the belief that it will instantly transform the brand.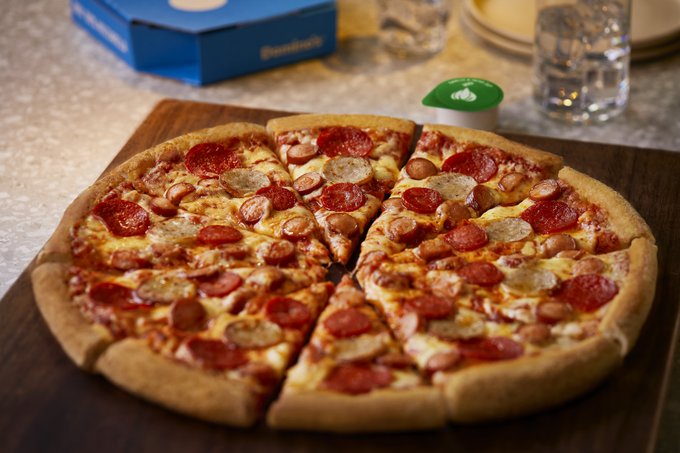 A Strategic Approach
Making a smart decision, Domino's refuses to jump headfirst into the loyalty program bandwagon simply because it's expected, instead the company recognises that loyalty offerings can sometimes provide short-term gains akin to a sugar rush.
Therefore, Domino's main focus remains on cultivating long-term growth while avoiding hasty decisions. In a world where promotions are often seen as the holy grail, Domino's chooses to chart a different course.
Change of Tune
The current Domino's UK CEO, who took the helm in August, presents a more cautious tone compared to the brand's earlier messaging.
While the interim CEO in August expressed immense excitement about the loyalty scheme's potential, the new CEO steers the ship with a steady hand, acknowledging the importance of purchase frequency without solely relying on the upcoming loyalty program.
Furthermore, the CEO also revealed that the new ecommerce backend platform, which is central to the loyalty program's success, is on-track and ready to be completed.
This platform will introduce improved digital capabilities for the brand, allowing it to install updates quickly and enable agility across promotional and marketing activity.
Success in the Digital Realm
Domino's celebrates success in its digital offerings, boasting an impressive 55% increase in active app users compared to the same period last year.
The brand's new ecommerce backend platform promises enhanced digital capabilities, agility in promotional and marketing activities, and quick updates, meaning that Domino's is cooking up a recipe for upcoming digital dominance.
A Broader Perspective
Domino's strategy transcends mere promotions and loyalty programs. It aims to deliver overall value to consumers by focusing on long-term growth, avoiding over-reliance on promotional activities, and expanding its reach to new customers.
With the ability to reach only 85% of UK households currently, there is ample room for Domino's to expand its pizza empire. What's more, stores in new locations have seen remarkably high sales upon opening, demonstrating how people are calling out for access to the brand.
Conclusion
Domino's is poised to revolutionise the pizza experience in the UK with its upcoming loyalty scheme, set to launch in 2024. While the specifics remain a mystery, the company's steadfast commitment to long-term growth, digital innovation, and consumer value is crystal clear.
Moreover, Domino's is not just delivering pizzas; it's delivering a vision of a more engaging and rewarding future for its customers, one slice at a time. As the pizza giant takes these strategic steps, the UK can't help but eagerly anticipate the delicious changes that lie ahead.