Crocs is making the holidays a little brighter by launching its first-ever virtual store stocked with festive footwear, apparel and accessories. The limited-time holiday shop features seasonal collections that deliver joy and surprises to customers around the globe. With Crocs' Virtual Store, shoppers can easily find their favourite items in one place.
The 3D immersive online experience was launched on November 9, until December 31, 2022 and can be enjoyed on both desktop and mobile. Consumers can now explore a variety of products within exclusive brand rooms, take an interactive quiz to test their product knowledge, and even play entertaining games that have offers as gifts.
POV: You're holiday shopping in the Crocs store online.

— Crocs (@Crocs) November 17, 2022
Virtual Stores: The New Trend in Online Shopping
Virtual stores outrun both in-store shopping and traditional online shopping, by providing an exciting shopping experience that bridges the gap of physical brick-and-mortar stores. Virtual stores are the new evolved face of online shopping, offering an offline shopping experience. 
The virtual store environment reproduces the look and feel of a traditional store, allowing shoppers to "walk" around the store as if they were actually there. It provides shoppers with the ability to browse and explore products, just like in a physical store, without any of the hassle associated with physically shopping in a store. Virtual stores also allow customers to view product information and reviews quickly that help make easier decisions while purchasing.
Brands have the chance to be innovative, make an impactful statement, move a ton of product and simultaneously gain substantial brand recognition. Virtual stores provide a way to engage with customers, experiment and prepare for what lies ahead. One of the most advantageous aspects of owning a virtual store lies in the valuable insight companies can gain regarding customer purchasing habits. Experts say that many brands are primarily motivated to pursue such initiatives for the valuable data they can collect.
The Virtual Store Experimenters
Crocs is not the first to launch a Virtual Store. Many big brands have already established their own virtual stores. In December 2021, brands including American Girl and Ralph Lauren launched their virtual stores.
There are also stores within gaming platforms such as Roblox, where PacSun operates a store of virtual clothes for avatars. As the year progresses, more and more brands are expected to launch their virtual stores and take advantage of this new trend. All have the same goal— to strengthen customer relationships and ultimately increase profits.
Just in time for the holidays, the global fashion house Coach unveiled a unique virtual experience to get customers into the festive spirit! Saks Off 5th collaborated with digital media brand Betches to create a 3D store designed for the holidays, while Swiss chocolatier Lindt revealed an offering as well. On Dec. 14, Ralph Lauren announced it would be giving its AR store a festive transformation for the holiday season! Bloomingdale's Outlet is excited to present their upcoming six-week livestream shopping series in collaboration with ShopShops. To further enhance the festive season for their customers, Charlotte Tilbury, the makeup and beauty brand has implemented avatars to offer an even more delightful holiday experience.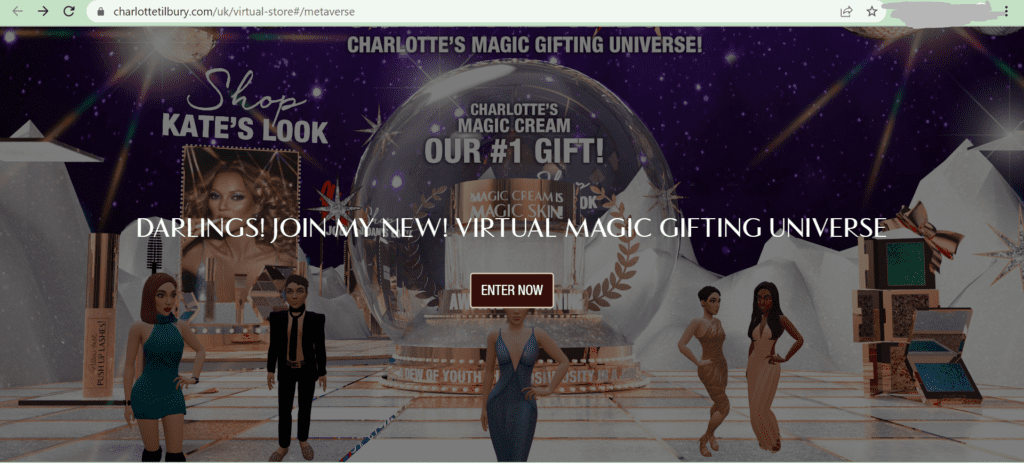 Crocs Holiday Virtual Store: Enhanced Shopping Experience
For an unforgettable virtual shopping experience, Crocs partnered with Obsess, a virtual retail platform, to create five one-of-a-kind themed rooms over the course of three months. When you enter the first room, it gives you a chance to explore the WebVR world at your own pace. You can also play an interactive game for exclusive rewards or take a quiz so that the system can direct you to relevant content and offer personalised games.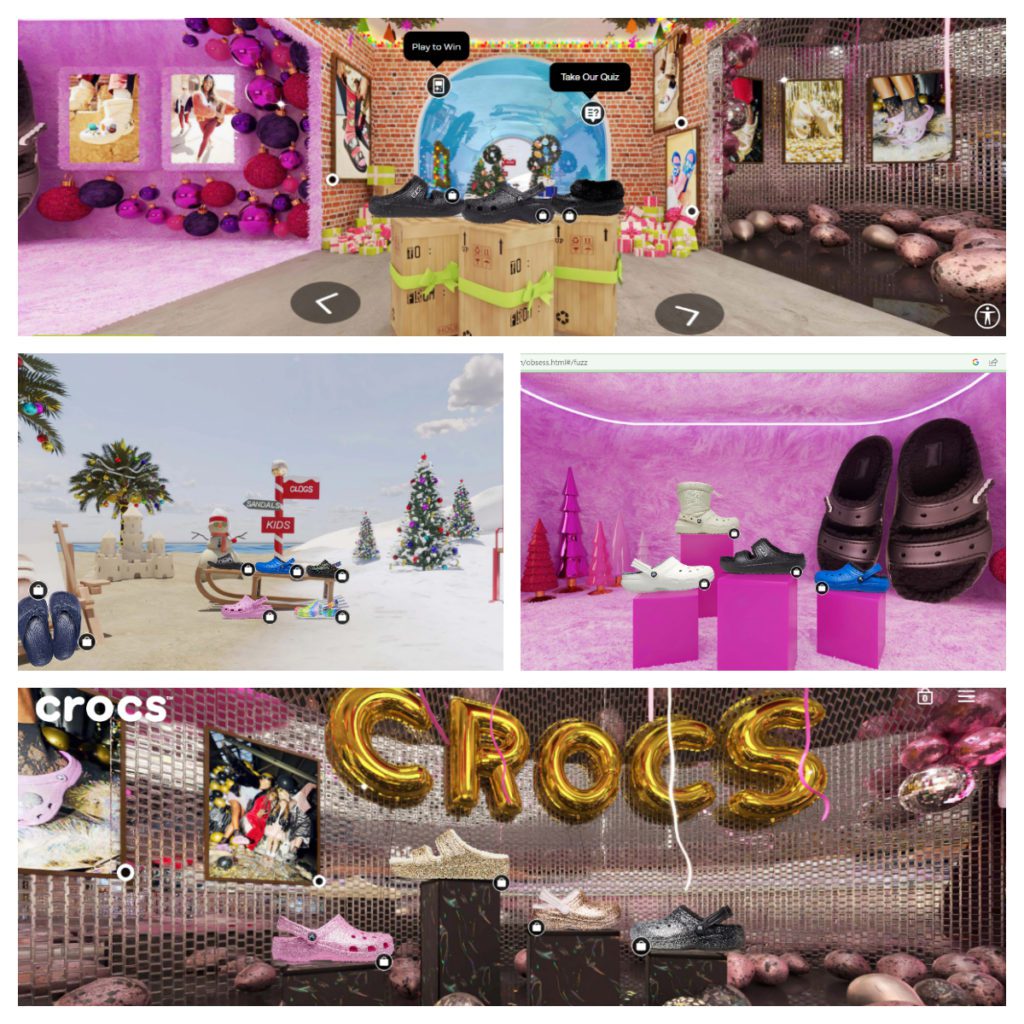 The other four rooms each demonstrate unique sensibilities: One is a throwback to the brand's traditional clogs, while another shimmering space brings an energising atmosphere. To create an inviting and snug atmosphere, a fuzz-lined room was constructed. Likewise, a Jibbitz zone was established to serve as the ultimate personalization station, allowing people to adorn their shoes with assorted charms of their choice! Shoppers are encouraged to explore one, or all of the bustling areas!
Step into the fuzz-lined room and feel the warmth it brings; gaze at the shimmering metallic balloons in the glitter room, sparking memories of all that glitters during New Year's Eve. The atmospheres are not just visual but evoke a sense of touch with their varying vibes—a soft and cosy one or an energetic festive one! Other spaces embrace the winter and holiday season with a wide array of decorations such as an igloo-like structure, snowy beach to mimic vacationing during these seasons, and more.
Consumers are responding strongly to this effort, leading the Crocs' share price to skyrocket by more than 4%. Croc's marketing team is always open to experiment with fresh ideas, which is the secret to their success. Last year, Crocs made history as the first footwear brand to join in on TikTok's augmented reality revolution with #GetCrocd. This campaign not only gained a staggering 8 billion impressions but also experienced over 1.3 million hashtag uses around the world! With such an impressive response worldwide, it is clear that this was a successful venture for Crocs.
Get ready to #GetCrocd!
Search the hashtag on TikTok, pick a style, show 'em off, then Croc your friends 🐊 pic.twitter.com/K0xeBKBlXt

— Crocs (@Crocs) April 7, 2021
By the end of 2021, Crocs made its grand entrance into NBA 2K and established an exciting new world of their own in Minecraft. They had also partnered with Roblox. This shows that the brand is always on the lookout for new opportunities and ways to reach out to its consumers.  
Introducing @Crocs World, now live in @Roblox!

Over the next few weeks, explore the new in-game world, play our Dev Duel minigames, and take part in our awesome virtual experiences! 🎡👀

For more info visit https://t.co/GB4tUQOq9l | #CrocsOnRoblox pic.twitter.com/YtY7P7zEQM

— Gen.G Esports (@GenG) October 11, 2022
Through innovative ideas such as these, Crocs has been able to take virtual shopping experiences to an entirely different level. This experimentation has allowed the company to form a real connection with shoppers from all over the world.
As a result of this and other efforts, the brand has been able to achieve tremendous success and gain unprecedented recognition. Virtual stores are a great way for brands to engage with their customers and experiment with new ideas that could take their business to the next level.