How has Coca-Cola managed to thrive in a challenging economic climate for over a century, as a leader in the beverage industry?
It could be due to being able to satisfy its customers and maintain their loyalty by managing and implementing strategies, such as consumer-focused grouping, raising prices, and further investing in the brand.
This blog post will take a closer look at how Coca-Cola has managed to navigate the changing economic tides and continue to be a leader in the ever competitive industry.
Defending the Best Coke Ever? is slight work. 😤 #takeataste pic.twitter.com/nGdy2uG7Du

— Coca-Cola (@CocaCola) April 1, 2023
Proactive Price Increases
Coca-Cola often uses proactive price increases as a strategy to deal with inflation. However, the focus is not just or not only on raising prices, but also on adapting the company to the changing needs of its customers.
The company has achieved continuing success by delivering their products with precision – ensuring the right product, package, channel, and price points are all perfectly matched to their customers' needs. This well executed strategy has helped them remain ahead of competitors and maintain a loyal customer base.
Flexible Market Regulations
Coca-Cola's flexibility in terms of market regulations has been an advantage, in addition to keeping up with customer demands for pricing and packaging.
The company's success in stimulating consumption is due to its strategy of emphasising high-quality products in certain markets and channels, while prioritising affordability in others.
By understanding the differences, and catering to the preferences of various markets and consumers, they are able to remain successful in ways that other brands have not.
Maintaining a Close Relationship With Customers
The company's success is greatly influenced by its strong relationship with its customers. By listening carefully to their feedback, the company identifies the most promising opportunities to pursue.
Coca-Cola can stay connected to its consumers, respond to their changing needs and maintain a strong presence in the market by using this approach, which in turn helps the company achieve continued growth and improve their product lines quickly and efficiently.
How Have Their Revenues Increased?
Coca-Cola showed that it is able to stay ahead of others in the first quarter of 2023 alone. Their net revenues increased by 5% compared to the previous year, and they also saw a 3% increase in global unit case volume. Also, their price and mix increased by 11%, but the sales of concentrate was shown to have only grown by 1%.
The company has promised to reinvest in its brands with strictness and efficiency by using updated resource allocation frameworks in order to keep up the current progress. These frameworks enable them to balance their long-term goals while reinvesting for the best returns in the near future.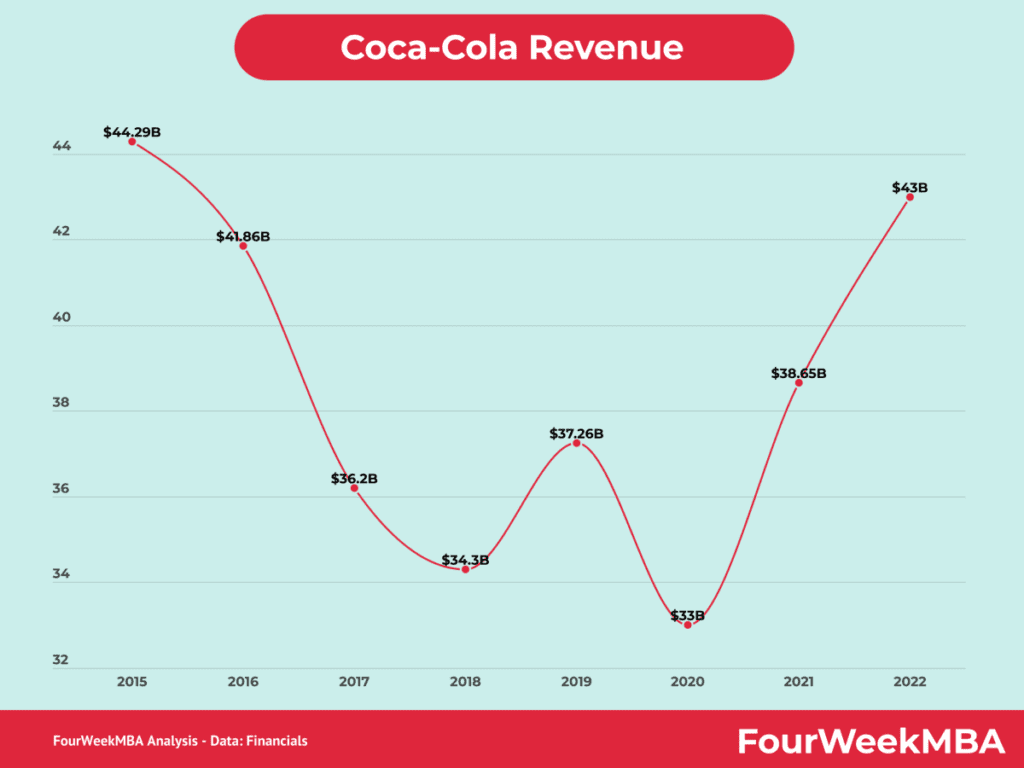 The Smartwater Brand and Becoming More Digital
In the first quarter, Smartwater, one of the company's billion dollar brands, also experienced an 8% increase in volume. Innovative strategies and a digital-focused marketing campaign contributed to the company's growth. Most recently, they also upped their marketing spend, but the exact figure has not been revealed.
Coca-Cola is also collaborating with a global agency partner to utilise digital technology in connecting with customers through their interests. Over the past three years, the company's marketing strategy has been increasingly more focused on digital channels.
It has also been stated that some of their recent endeavours, such as creating new limited-edition flavours like Starlight and Marshmallow, were enabled through their platform 'Coca-Cola Creations', and they also partnered with Chat GPT to integrate artificial intelligence with the Coca-Cola brand.
The Potential Downsides to These Strategies
Despite the company's proactive strategies and successful market adaptations, there are potential downsides to their approach that should be taken into consideration.
First, the increase in prices due to inflation affects customers' ability to continually keep purchasing Coca-Cola products, potentially leading to reduced sales down the line.
Second, when companies focus too much on digital channels for marketing and sales, there is sometimes a lack of personalisation, which could eventually create a disconnect between the customer and the brand.
Finally, the cost of materials used in production and transportation can also take a toll on profits, unless those costs are properly managed. Coca-Cola needs to be mindful of these potential problems as they continue to pursue their strategies for growth.
Conclusion
Coca-Cola has been able to stay focused on its customers despite shifts in the larger economic landscape, and this has contributed to its overall success. They have remained ahead of the curve by emphasising both premium quality and affordability, and by always maintaining a strong connection with its customers.
Moreover, its success can be attributed to its adaptability to market regulations and its reinvestment strategies, which essentially prioritise flexibility. Coca-Cola's commitment to customer-centric segmentation and strategic price increases will remain a key driving force behind its future success as the industry continues to evolve and face new challenges.