Despite its late start, the watch and jewellery sector is quickly evolving into an epicentre of innovation. By revolutionising products as much as customers' and employees' experiences, contemporary trends in this industry are revamping what it means to do business.
Luxury brands including watches have recently exhibited a newfound enthusiasm for the resale model, looking to both bolster their income and meet sustainability objectives.
What are the Linear and Circular Economies?
The linear economy is based on a take-make-dispose approach. Products are created and disposed of, creating waste and further straining our planet's resources. The circular economy, however, reuses products over their lifecycle, reducing strain on the planet by doing more with less.
In contrast to the linear economy, which is based on an idea of "more" and produces waste, the circular economy creates economic value by conserving resources through reuse.
Luxury brand watches are trying to shift to the circular model by making their products more sustainable.
Although the pre-owned business model is beneficial to sustainability, it would be erroneous to assume that this alone can do all of the work. Luxury watches tend to be naturally prolonged due their ability for transmission from one generation to another. However, repairing, sustaining and reselling them secondhand are not necessarily always sustainable. These activities have the potential for a positive ecological and social impact, but only if they adhere strictly with sound sustainability practices.
Furthermore, circular practices have proven ineffective multiple times as the incentives to implement such commercial models proved insufficient.
Circular Model in Luxury Watches Industry
Now more than ever, the luxury brands industry stands at a pivotal moment. If we fail to make positive changes now, it could be too late. With the UN 1.5-degree containment goal by 2050 of utmost importance, Patagonia and other activists are pushing for circularity in this sector as an eco-friendly solution.
A survey of over 26,000 luxury watch owners and collectors revealed a staggering statistic: 45.6% admitted to having an unutilized timepiece sitting in their home! If these watches were reintroduced into the commercial system, what kind of positive effect would it have?
The Swiss watch industry has made its stance unequivocally clear: they want to transition towards circularity, no matter what kind of brand you represent. The only challenge lies in how fast and creative we can all be when it comes to taking action on this goal. Jean-Marc Pontroué, CEO at Panerai, a manufacturer of luxury watches for men noted that "The question is, how innovative and quick we can be in acting together to react to that?"
The second-hand hard luxury market – mainly watches and jewellery – is booming at an impressive rate of 8% annually, faster than the global luxury industry as a whole. Analysts anticipate that this pre-owned sector will continue its growth trajectory by 8 to 10%, reaching a staggering GBP 23.5 to 26 billion in sales come 2025; already up from 14 billion within 2019 alone!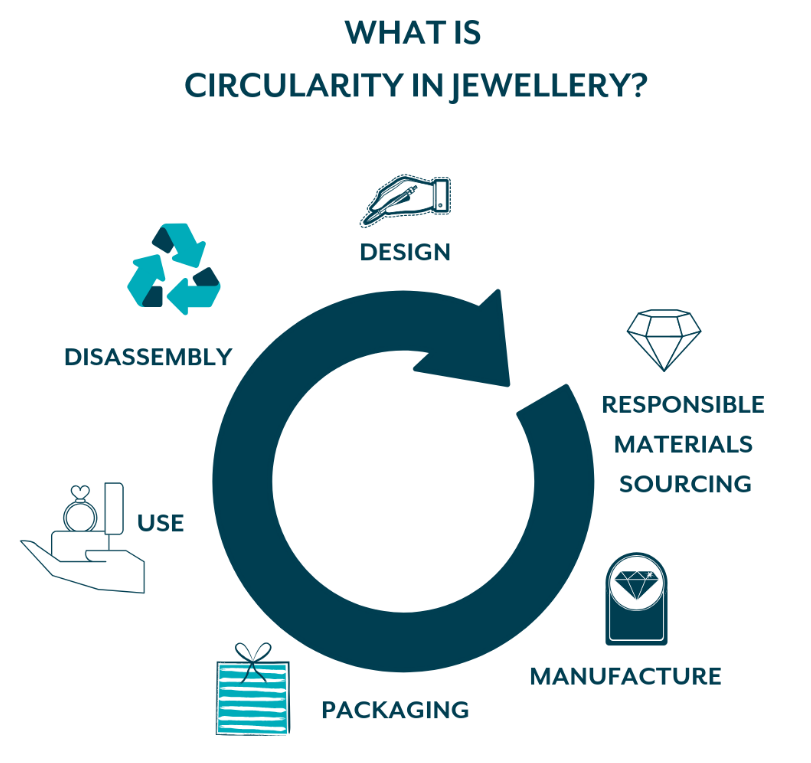 How are Watch Brands Creating a More Circular Economy?
Luxury watch brands are taking steps to reduce their impact on the environment by embracing sustainability initiatives, such as longer warranties and repairs. They are also exploring new avenues for reuse, such as recycling watches or creating watch parts from recycled materials.
Zenith Watches
Zenith upholds a commitment to environmental sustainability, built on three Rs: reduce (lessen the ecological impact of items and packing), repurpose, and recycle.
Zenith's DEFY Extreme E initiative has been designed to protect the environment, delivering watches with rubber straps made from recycled Continental CrossContact tires that were previously used for racing. This watch arrives in an upcycled case, the lid of which is created from recycled tires and the plate covering made with parts of a racing tarpaulin.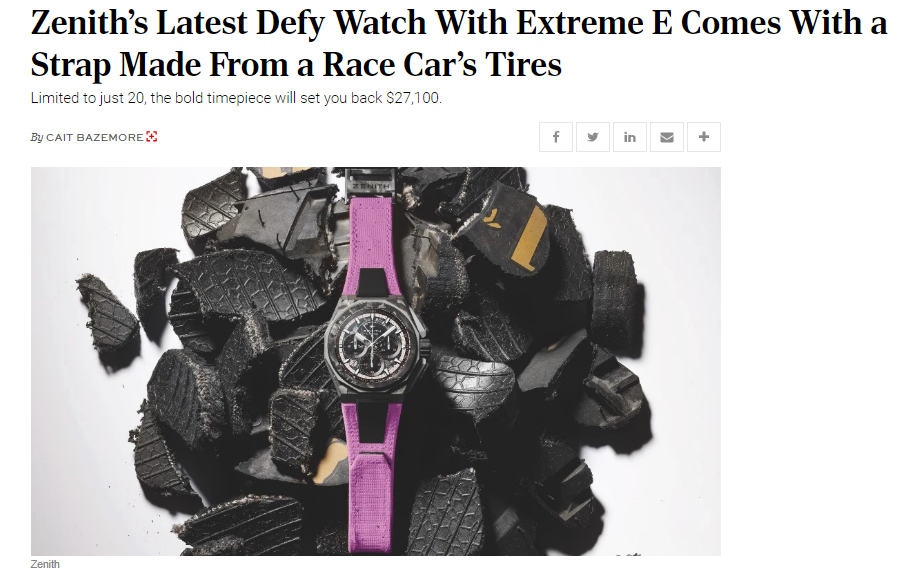 Panerai Watches
anerai has created an innovative 5R plan: recycle/upcycle, reduce, rethink, repurpose and reuse. They were the first luxury brand to use eSteel in a big way. This new metal is crafted from pre-consumer recycled steel scraps (reaching up to 95%), collected from multiple industries that helps diminish CO2 emissions with its production.
Panerai has joined forces with UNESCO to achieve two objectives: educating younger generations on the advantages of luxury and engaging hundreds of scientists. It is evident that no single individual holds all the answers, therefore we rely heavily upon findings from research studies.
The Progress Ahead
For any successful circular economy implementation, all stakeholders in the luxury watch industry must hold themselves accountable and move toward sustainable models with confidence. The fact that top brands like Zenith and Panerai are actively supporting and engaging in circular practices is a testament to the progress being made.
While the second-hand market cannot address all of the sustainability concerns within the watch industry, offering pre-owned pieces for a cheaper price can bring in additional customers who would not have normally purchased new watches. This does not diminish demand for newly manufactured items but instead increases accessibility to this particular sector.
When quality service is provided alongside these used products, it opens up more opportunities and possibilities than before. Thus, until a dependable and self-sufficient first-hand circuit is established, the goal of 1.5℃ by 2050 seems unattainable.
To truly foster sustainable and circular transformation, organisations must take hold of their governance as well as extend the boundaries of our current knowledge for optimal innovation.
It is imperative for brands to frequently assess the adequacy of financial incentives and guarantee that they are consistently fulfilled by all involved. Moving forward, we can anticipate further innovation in this field.